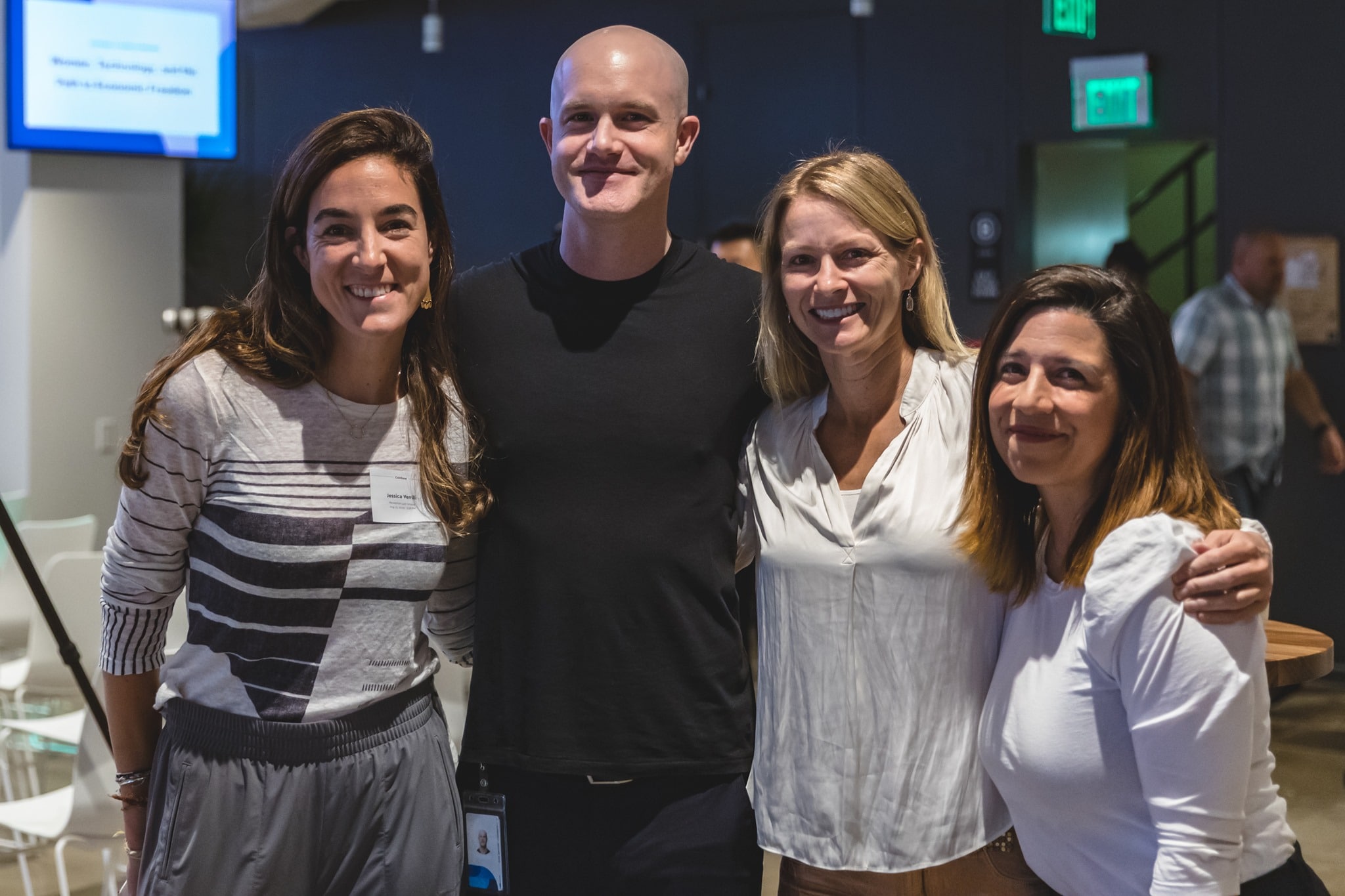 Coinbase stock fell over 3% yesterday. The stock now trades below the direct listing reference price of $250. What's the forecast for COIN stock and should you buy the stock in July 2021?
Coinbase opted for a direct listing. Recently British fintech startup Wise also opted for a direct listing in London. Among US companies, Roblox also went public through a direct listing. Last year, Asana and Palantir also opted for the direct listing mechanism to go public. Slack, which would be acquired by Salesforce, and Spotify are the other major companies that have opted for a direct listing in the past.
Coinbase stock technical analysis
Coinbase stock is looking mixed on the charts. It trades above the 10-day, 20-day, and 30-day SMA (simple moving average) but has fallen below the 50-day SMA. We don't have long-term averages for COIN stock as it only recently listed. The stock's 14-day RSI (relative strength index) of 51.5 is also neutral and indicates neither overbought nor oversold positions. The 12,26 MACD (moving average convergence divergence) also gives a buy signal.
67% of all retail investor accounts lose money when trading CFDs with this provider.
COIN stock forecast
Coinbase has received a median price target of $335, which a premium of 37% over current prices. Its highest price target of $650 is a premium of 166% over current prices, while its lowest price target of $225 implies a downside of almost 8%. Of the 19 analysts polled by CNN Business, 14 have rated it as a buy while four rate it as a hold. Only one analyst has a sell rating on the stock.
Oppenheimer reiterates overweight rating on Coinbase stock
Yesterday, Oppenheimer analyst Owen Lau reiterated his outperform rating on COIN stock and raised the target price by $10 to $444. While many investors have been apprehensive over COIN stock amid the recent crash in cryptocurrencies, Lau is not perturbed. "We think Coinbase should not trade in lockstep with bitcoin because bitcoin can be very volatile, but at the same time because of their volatility it drives higher trading volume. It is similar to all the traditional exchanges, and we think that it's still a misunderstanding in the market that people think Coinbase should trade along with bitcoin going forward," said Lau speaking with Yahoo Finance.
Analyst expects COIN stock to double from these levels
Lau expects COIN stock to nearly double over the next 12-18 months. If the predictions come true, it could mean a spectacular upside for investors. "Looking ahead, we believe management will continue to strategically increase contributions from 1) recurring revenue (e.g., the Coinbase Earn campaign, staking, and M&A) and 2) altcoins. Coinbase indicated ~40% of its trading volume in 1Q came from altcoins, materially lower than peers (e.g., ~85% of spread revenue for Voyager)," Lau said in his note.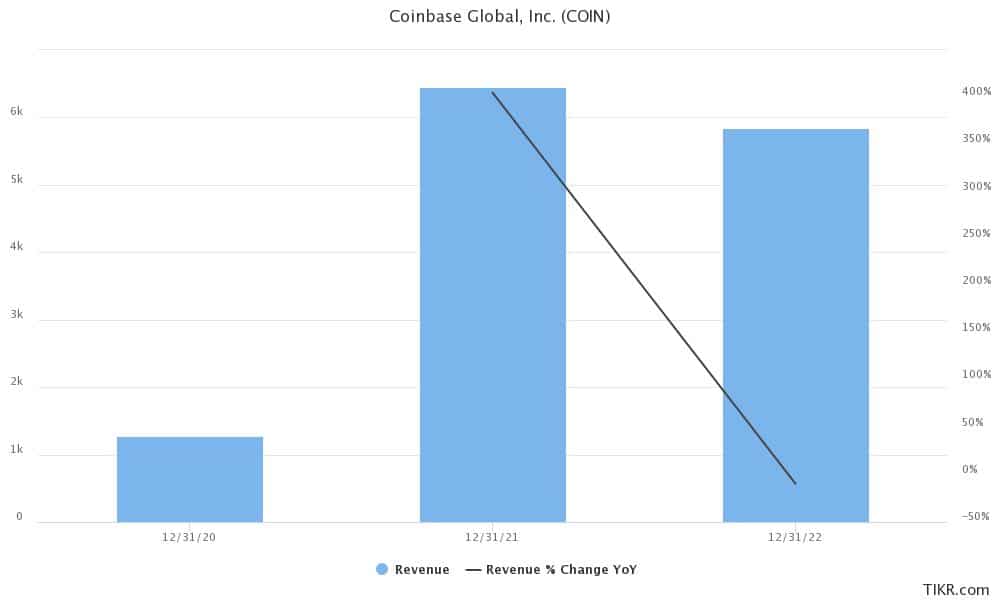 New crypto assets on COIN platform
Coinbase has been gradually adding new cryptoassets to the platform which will help lift volumes and hence its revenues. It also added the popular meme cryptocurrency to its platform. Quant was the most recent crypto asset to be added to the platform. Lau is optimistic about Coinbase adding more crypto assets in the future. "After adding Dogecoin, Polkadot, and others, Coinbase should gradually reduce its reliance on Bitcoin. We continue to see a sharp dislocation between Coinbase's fundamentals and its valuation and believe the current price offers an attractive entry point for long-term investors," he said in his note.
Coinbase stock looks reasonably priced
Coinbase has a market capitalization of around $51 billion while analysts expect the company's revenues to rise five-fold in 2021 to $6.45 billion. This implies 2021 price-to-sales multiple of around 7.9x. The company has a high net profit margin ratio and analysts expect the crypto exchange to report a net income of $2.4 billion in 2021 which gives us a 2021 PE multiple of just over 21x. The multiples are lower than that of other exchanges. Nasdaq for instance trades at an NTM (next-12 months) PE multiple of 26x.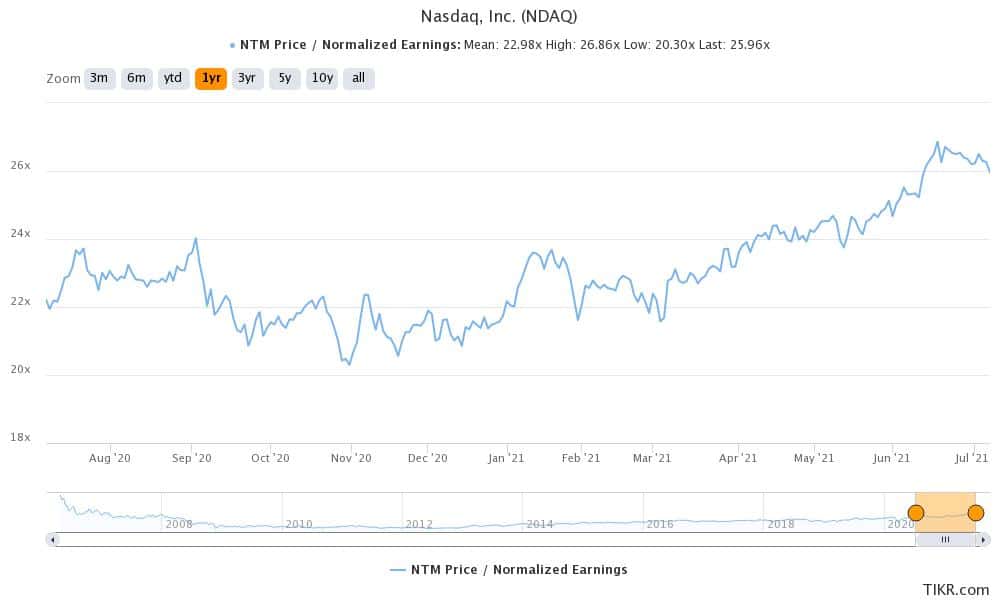 COIN versus Nasdaq
While Coinbase stock would look quite undervalued looking at the comparison with other listed exchanges, there are a few things that we need to consider. Firstly, Coinbase is expected to report lower revenues and profits in 2022 as compared to this year. The commissions that the company charges might not be sustainable and are expected to taper down as the cryptocurrency market matures.
Also, the competition is expected to intensify in the crypto exchange market. Finally, the steep surge in crypto trading in 2021 might not be sustainable in the long term. Some brokerages including Mizuho expect crypto trading volumes in the back half of the year to be lower than the first half.
Lower volumes for Coinbase
"Following outsized trading volumes in April and May, the crypto winter that began in June still reigns as 3Q knocks on the door. While 2Q volumes should be elevated, meager crypto volumes lingering bodes poorly for the remainder of 2021," said Mizuho in its note while reiterating its neutral rating.
Should you buy COIN stock?
Overall, the risk-reward scenario looks favorable for Coinbase stock at these prices. The stock has fallen sharply from the peaks and the slump looks like a good buying opportunity. While there are several headwinds for COIN including growing regulatory scrutiny of cryptocurrencies, the negatives seem baked in prices now.
67% of all retail investor accounts lose money when trading CFDs with this provider.
This news is republished from another source. You can check the original article here