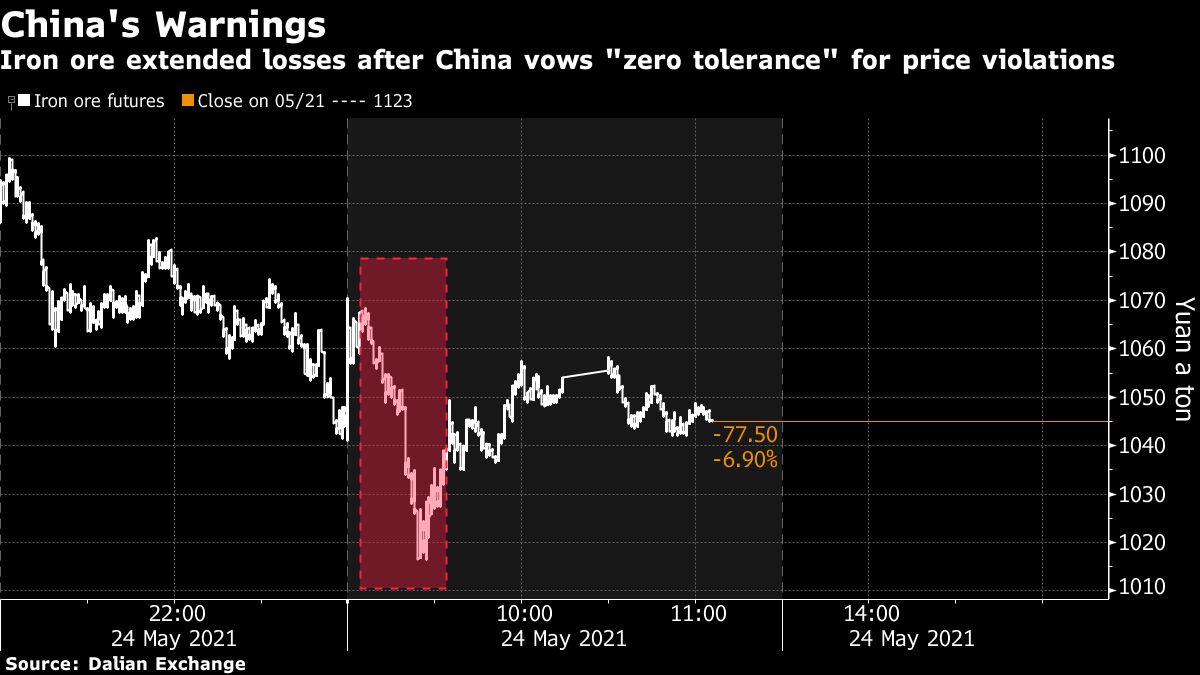 Commodity warning, a forced landing in Belarus, and another volatile weekend in crypto. 
Speculators 
China stepped up its fight against soaring commodity prices with a government commission saying there would "zero tolerance" for "excessive speculation" and hoarding which it said contributed to the recent rally. Iron ore futures dropped by the daily limit after the statement was issued and remained close to $182 a ton this morning. The warning comes amid increasing signs that Chinese commodity demand may be peaking as the country's central bank gradually restricts the flow of money to the economy and funding for infrastructure projects slows. 
Fly around 
Flights are being redirected to avoid Belarusian airspace today after authorities in the country diverted a passenger jet to Minsk and arrested a journalist on board. The extraordinary step taken by the country, amounting to the hijacking of a commercial flight, was strongly condemned by Western governments. Further sanctions against Belarus are likely to be announced later today after a meeting of European leaders. 
No weekend break  
Bitcoin's volatile week continued into Saturday and Sunday with the largest cryptocurrency trading in a $7,000 dollar range yesterday alone. A measure of implied volatility on Bitcoin comparable to the U.S. equity market's VIX indicator has been sitting above 130. While the job of analyzing what is next for the space seems to be almost impossible right now, some on Wall Street are predicting further falls for digital currencies. Software developers say they are closing in on switching the Ethereum blockchain from proof-of-work to proof-of-stake, a move that would cut energy demands by over 99%. 
Markets rise
While miners are under pressure again today, the wider market is broadly unresponsive to both developments in China and the latest crypto moves. Overnight the MSCI Asia Pacific Index was largely unchanged with Japan's Topix index closing 0.5% higher. In Europe, the Stoxx 600 Index had given up earlier gains to trade flat by 5:50 a.m. with travel stocks the best performers in the region and German markets closed due to a holiday. S&P 500 futures pointed to a move higher at the open, the 10-year Treasury yield was at 1.618%, oil traded close to $65 a barrel and gold was unchanged. 
Coming up… 
The Chicago Fed National Activity Index is at 8:30 a.m. There are three regional Fed presidents speaking today, and Fed Governor Lael Brainard joins Ray Dalio in speaking at the Consensus 2021 crypto conference. The World Health Assembly opens. Canadian markets are closed. 
What we've been reading
Here's what caught our eye over the weekend. 
And finally, here's what Joe's interested in this morning
With crypto having cratered over the weekend — and now bouncing back a little bit — here's a few scattered thoughts I have. I'm just going to bullet them.
As I wrote last night, this really does resemble the 2017 peak in two ways. The first is that this coincided with a major moment of institutional adoption (the Coinbase IPO) while the 2017 peak was the same week as the CME futures launch. Also Bitcoin peaked prior to the alts peaking — the same as last time around.
 
While Bitcoin and Ethereum are around 40% to 50% off their recent highs, a number of altcoins have been clobbered way more. It will be interesting to see if some of this stuff bounces back. A lot of these DeFi platforms and yield-farming profits come from altcoin trading. So if the trading fades, so will yields.
 
Bitcoin should learn something from the refrigerator industry. You almost never hear anyone complaining about how much electricity refrigerators use. That's because the importance of food preservation is pretty well accepted by everyone around the world. People won't complain as much about Bitcoin's energy consumption if more people accept that cryptocurrency is a good thing, as opposed to just a get-rich-quick thing. Unfortunately the space is riven with hucksters and charlatans, and so you can't be surprised that a lot of people think it's just a hot speculative mess.
 
Speaking of energy consumption, a lot of folks in the space are excited about the prospect of Chinese Bitcoin mining going away, if that would make mining cleaner in general, while also concentrating hashpower outside of China.
 
While everyone's focusing on wasted energy, expect more attention soon to be paid on what crypto (not just Bitcoin) is doing to semiconductor prices and hardware availability.
 
After having been burned 5000 times, everyone's going to be scared to declare Bitcoin or crypto dead or over. Those predictions have never been correct, so people will stop making them.
Joe Weisenthal is an editor at Bloomberg
Like Bloomberg's Five Things? Subscribe for unlimited access to trusted, data-based journalism in 120 countries around the world and gain expert analysis from exclusive daily newsletters, The Bloomberg Open and The Bloomberg Close.


This news is republished from another source. You can check the original article here