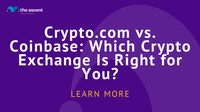 There are three main fees to be aware of when using cryptocurrency apps and exchanges: deposit, trading, and withdrawal. Costs can vary depending on the payment method, trading amount, location, and cryptocurrency.
Neither Crypto.com nor Coinbase charge fees to deposit money via a bank transfer, but both charge for debit card payments. On most exchanges, you'll find it's free to deposit cryptocurrencies but costs to transfer a fiat currency (traditional money) from your bank account.
Unfortunately, Coinbase is not very transparent about its crypto trading fees — it says they are calculated when you place your order but doesn't publish its maker/taker fee as other sites do.
Let's say you were to buy $200 worth of Bitcoin on Coinbase with a debit card, you'd pay a Coinbase fee of 3.99% to use the card and a spread of around 0.5%. The spread may change when you make the trade. Fees are lower and more transparent if you use Coinbase Pro.
On Crypto.com, you'd pay 2.99% to use a debit card and a maker/taker trading fee of 0.4%. This fee is reduced for higher trading volume customers or those who stake the Crypto.com coin (CRO). Crypto.com waives the debit/credit card fee for new customers in the first 30 days.
As with its trading fees, Coinbase only discloses the withdrawal fee when you make the transaction. It's free to move money to a Coinbase wallet, but you'll have to pay a variable fee to move your crypto asset to a different external crypto wallet. In contrast, Crypto.com publishes its withdrawal fees for each cryptocurrency, though it's free to move assets to the Crypto.com wallet.
Overall the fees on Crypto.com are lower. But Coinbase does offer additional deposit options, such as a transfer from PayPal.
This news is republished from another source. You can check the original article here