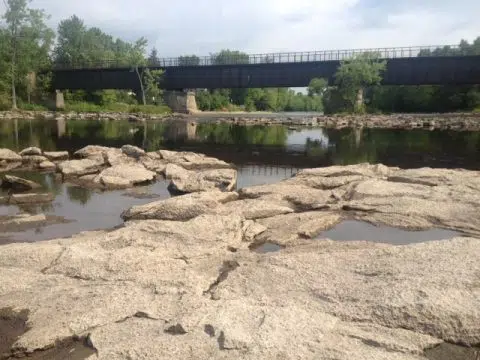 It appears our region could soon be in a drought situation, unless things change.
Quinte News contacted the local conservation authorities to find out where we are with the local bodies of water, and their tributaries.  They include the Trent, Moira, Salmon and Napanee Rivers, the Bay of Quinte, and Lake Ontario, along with some small lakes.
Quinte Conservation Water Resources Technician Dave Eastcott says rain is needed, and not a shower, or quick downpour.
"You want sustained rain over a wide area.  Normally in May we get about 80 millimetres of rain, and were looking at about 20 so far."
Water Resources Manager for Lower Trent Conservation Janet Noyes says in their water system they are at about 15 millimetres for May (as of May 18).  She says they have been concerned for more than six weeks.
"Basically had no spring freshet this year, it was quite low.  The precipitation levels have been pretty low through the winter and the spring compared to normal. Our stream flows are below normal levels for this time of year."
Noyes says March was about an inch below normal precipitation, and April was more than an inch.
She does not remember it this dry this early.
"There was some really low levels back in the 30s, 60s were kind of dry, but in recent memory no.  It's something that we're quite concerned about and we have called together our water response team."
Their team consists of LTC staff, local experts and political leaders.
Dave Eastcott did point out that Lake Ontario is affected differently that the other water sources.
"What's going on in Lake Ontario is a little bit independent of what's going on in our upper Lakes.  Lake Ontario is a managed system, it is a regulated lake.  Some of the extreme highs and extreme lows that we're seeing in Lake Ontario have something to do with that management, and are not necessarily connected to the conditions we see in our inland lakes and rivers."
Noyes says at the end of May local water officials will be meeting to discuss next steps in their monitoring, and will advise the public.
Staff Meteorologist Kevin Williams says do not hold your breath for any major rain systems in the short term.
"The impacts are being felt in many regards including the level of Lake Ontario, which is about a 1/3 of a metre below average right now.   There will be a couple of showers around Thursday that could bring a few millimetres of rain, and there will be some opportunities for a few showers over the weekend but a wide spread soaking that will alleviate the dryness is not foreseen anytime soon."
This news is republished from another source. You can check the original article here