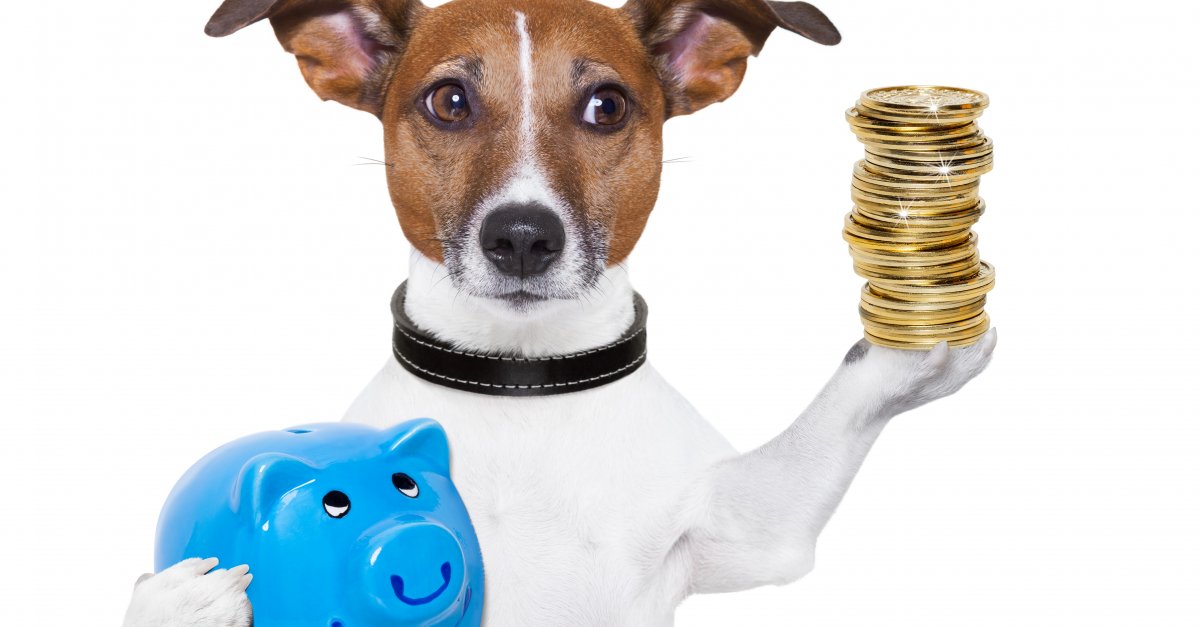 It aims to be a bigger success than some of the biggest meme coins, but what is shiba predator (QOM)? Let's see what we can find out QOM, what it has to do, if anything, with shiba inu (SHIB), and take a look at some of the shiba predator price predictions that were being made on 19 October 2022, too. 
SHIB/USD price chart
Shiba predator explained
One of the more infamous parts of the cryptocurrency world are dog coins. These tokens, often also known as meme coins, are, in effect, tributes to dogecoin (DOGE). This crypto that was itself founded as a parody of the very first crypto boom, but ended up becoming a major player in the world of blockchain technology.
One could say that what we might describe as the second generation of dog coins, such as shiba inu (SHIB), were parodies of a parody, which would mean the ones that have come after that are pretty much parodies of parodies of a parody.
That said, there are a lot of dog coins out there, all trying to compete with one another and, while there is some debate regarding how useful they actually are, there are enough of them to be considered an entire sector of cryptocurrency.
One of the very many dog coins to have come out over the last eighteen months or so is shiba predator. Also known by its ticker handle of QOM, this coin promises a lot.
For instance, it says that it is going to "flip", or overtake, shiba inu. How it is going to do that is rather unclear, but it seems to be quite confident of its potential success, with the website saying indicating that everyone is going to make it together and telling potential investors that they can write their own destiny if they "trust the process". 
There are, however, several potential red flags when it comes to the shiba predator token. Firstly, there is no apparent utility for the crypto. It does not appear to be designed to be staked, nor does it look like holders can vote on changes to the platform.
The reason why we might well be using rather vague language when we talk about this token is that there is no whitepaper. This means that we have no way of knowing the details of how either the Shiba Predator system or the QOM token itself works.
This is something that might well deter a potential investor from putting their money into the platform, because it is entirely possible that they might prefer investing in something where they know more about what they are spending their cash on. 
Furthermore, the platform makes some odd claims. It says, for instance, that it can flip SHIB like SHIB flipped DOGE  – only, as of 19 October 2022, DOGE had a market cap of around $7.8bn compared with SHIB's $5.5bn.
Also, the language on the Shiba Predator website is rather mangled, as if it is the result of someone who thought they could speak better English than they can. For instance, the site contains sentences, such as:
"Now while we congratulate those that did well and pour one out for those that sold what would now be hundreds of millions of $ worth of shiba for pennies when everybody thought it was ded (dog was just sleeping) We have to think about the rest of us – The ones who havent made it."
Such language might well baffle a thoughtful crypto investor or a native English speaker. It also does not seem to have any strategy regarding how it can reach its goals apart from perhaps urging patience. 
Incidentally, since QOM is based on the Ethereum (ETH) blockchain it is a token, rather than a coin. You might see references to such things as a shiba predator coin price prediction but these things are, strictly speaking, wrong. 
What is your sentiment on SHIB/USD?
Vote to see Traders sentiment!
Shiba predator price history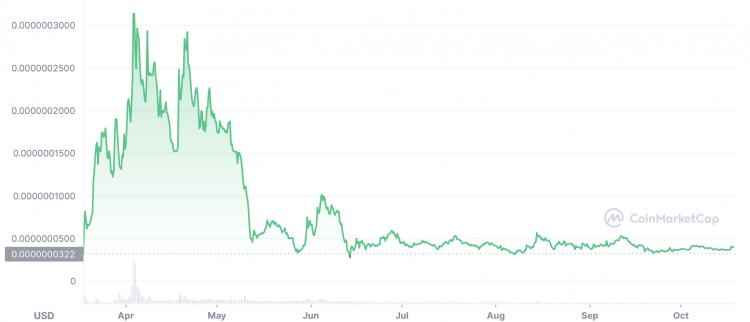 QOM price history from launch to present – Credit: CoinMarketCap
Let's now take a brief look at the QOM price history. While past performance should never be taken as an indicator of future results, knowing what the token has done in the past can provide the all-important context when attempting to either make or interpret a shiba predator price prediction.
QOM first came on the open market in March 2022, it was worth about $0.000000025. The market appeared to have a fair bit of confidence in the new token's potential and it reached an all-time high of $0.0000003867 on 3 April. After that, though, it slipped down, and a series of market crashes saw it reach a low of $0.00000002798 on 14 June. After that, though, there was some recovery to see it reach a high of $0.0000000621 on 15 August, but since then the price has declined somewhat and, on 19 October 2022, it was worth about $0.00000003825. At that time, there were 599,886,333,333,333 QOM in circulation, representing the total supply. This gave the token a market cap of a little under $23m, making it the 536th largest crypto by that metric.
Shiba predator price prediction round-up
With that all out of the way, let's take a look at some of the shiba predator price predictions that were being made on 19 October 2022. It is important to note that price forecasts, especially when it comes to something as potentially volatile as cryptocurrency, very often turn out to be wrong. Also, you should realised that many long-term crypto price predictions are made using an algorithm, which means that they can change at a moment's notice.
First, CoinCodex had a rather bearish short-term shiba predator price prediction for 2022, saying that it expected that the token could drop to $0.0000000366 by 24 October and $0.00000001238 by 18 November. Perhaps fittingly, the site's technical analysis for the shiba predator token was bearish, with 20 indicators making downbeat signals compared to just two that made bullish ones. 
Next, PricePrediction made a rather more upbeat QOM price prediction, suggesting that the token could be worth $0.00000004 this year, $0.00000006 next year and $0.00000009 the year after that. By 2025, the forecast claimed shiba predator could be trading at a potential $0.00000012, with it possibly reaching $0.00000018 in 2026, $0.00000026 in 2027 and $0.00000039 in 2028 before potentially closing the decade at $0.00000058. The site then went on to make a shiba predator price prediction for 2030 of $0.00000083, before arguing the crypto could jump a decimal place in 2031 to trade at a potential $0.00000121. 
Meanwhile, CryptoPredictions.com had a shiba predator crypto price prediction what argued that the token could finish the year at $0.000000048991 before rising to $0.00000007468234 in October 2023. A year from then, the forecast was for QOM to potentially trade at 0.00000009998565. The site then made a shiba predator price prediction for 2025 that saw the token potentially start the year at $0.000000105263758, reach $0.000000118785154 by October and close the year at a possible $0.000000121442164. By October 2026, the site thought QOM could be worth $0.000000133140275, and it could close that year trading at a possible $0.000000135229942.
Finally, Gov Capital was far more downcast and bearish in terms of its, rather doom laden, QOM price prediction. The site said that the already low price of shiba predator could decline so far as for it to be effectively worthless at some point by 1 November 2022. There was little hope of a recovery, at least in the medium term, because the site said that on 19 October 2023 the QOM token price could still remain at $0, making it a de facto dead coin.
When considering a QOM token price prediction, it's important to keep in mind that cryptocurrency markets remain extremely volatile, making it difficult to accurately predict what a coin or token's price will be in a few hours, and even harder to give long-term estimates. As such, analysts and algorithm-based forecasters can and do get their predictions wrong.
If you are considering investing in cryptocurrency tokens, we recommend that you always do your own research. Look at the latest market trends, news, technical and fundamental analysis, and expert opinion before making any investment decision. Keep in mind that past performance is no guarantee of future returns. And never trade with money that you cannot afford to lose.
FAQs
Is shiba predator a good investment?

It is hard to say. With a great many dog coins out there, it is difficult to see what it is that could make QOM special. Indeed, it might be some time if a token that is not even in the top 500 cryptos by market cap can achieve its aim of overtaking SHIB, a token that is in the top 20 and has been for some time. That's not to mention the lack of any detailed documentation about the QOM token and its platform. 

Remember, as well as examing sites that offer a QOM price prediction, you should always carry out your own thorough research before making an investment in a token or coin. Even high market cap cryptocurrencies have proved vulnerable to bear markets. Investors should be prepared to make losses and never purchase more than they can afford to lose.
Will shiba predator go up or down?

It is difficult to tell. While the likes of PricePrediction are rather positive in terms of the crypto's future, Gov Capital only foresees bad things happening to shiba predator, at least in the short to medium-term. You should remember that price predictions very often end up being wrong, and that prices can go down as well as up

In volatile cryptocurrency markets, it is important to do your own research on a coin or token to determine if it is a good fit for your investment portfolio. Whether QOM is a suitable investment for you depends on your risk tolerance and how much you intend to invest, among other factors. Keep in mind that past performance is no guarantee of future returns. And never invest money that you cannot afford to lose.
Should I invest in shiba predator?

Before you decide whether or not to invest in QOM, you will need to research both the token itself and other dog coins. 

Ultimately, though, this is a question that you will have to answer for yourself. Before you do so, however, you will need to conduct your own research and never invest more money than you can afford to lose because prices can go down as well as up.
Related reading
This news is republished from another source. You can check the original article here