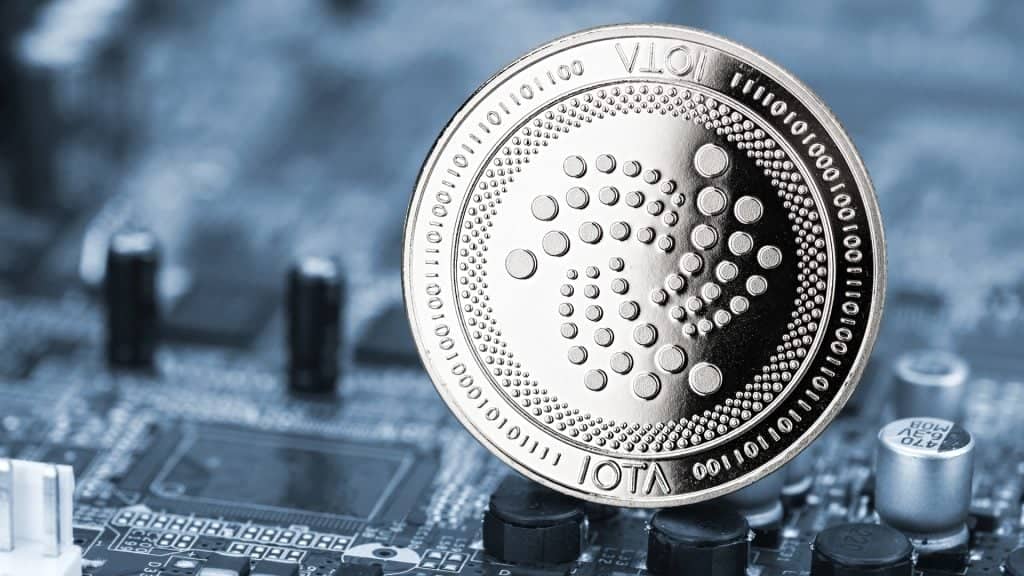 The IOTA price has struggled in the past few months. IOTA is trading at $1.3020, which is about 45% below the highest level in September. Its total market capitalization has dropped to more than $3.6 billion, making it the 51st biggest cryptocurrency in the world. Meanwhile, the IoTeX price has surged to an all-time high, bringing its total market cap to more than $2.1 billion.
IOTA vs IoTeX: What's the difference?
IOTA and IoTeX are the two biggest blockchain projects that are focused on the Internet of Things (IoT) industry. This is an industry that allows machines to communicate with other machines and humans. 
With the world quickly transitioning to 5G, and with the number of connected devices rising, this will prove to be a large industry. Indeed, the number of connected devices is expected to rise to more than 100 billion by 2030.
IOTA and IoTeX have a similar name and similar goals. However, the two platforms are relatively different. 
IOTA uses the Tangle, which is the backbone of the network. Tangle ensures lower fees, low resource requirements, and fast transactions. It has a finality of a few seconds. Today, IOTA is being used by cities and other organizations globally. For example, it is being used by Jaguar, Dell Technologies, TradeMark East Africa, and Zebra.
IoTeX, on the other hand, is on a journey to help connect the billions of devices that are in existence today. So far, it has more than 9,000 connected devices. Its technology is also being piloted by the Industry IoT Consortium (IoT). At the same time, its ecosystem is growing, with the number of apps built by the network rising. Some of the popular apps in its ecosystem are Game Fantasy Token and ZoomSwap. 
So, which is a better buy between IOTA and IoTeX?
IOTA price prediction
The IOTA price has struggled substantially in the past few weeks. On the four-hour chart, we see that the coin has tested the lower side of the ascending trendline. The price has also moved slightly below the 25-day and 50-day moving averages. Also, the coin has formed what looks like a head and shoulders pattern. Therefore, for now, there is a likelihood that the IOTA price will remain under pressure.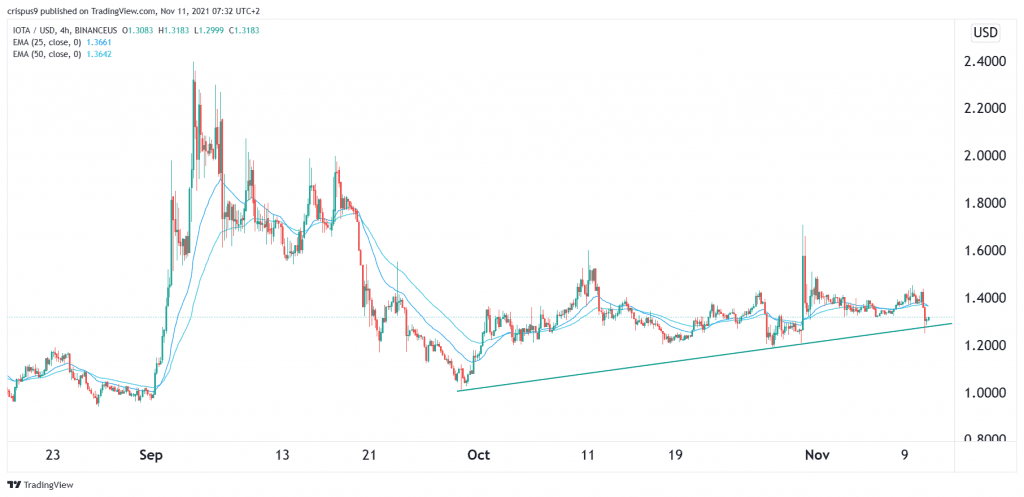 IoTeX price prediction
Elsewhere, we see that the IoTeX price has bounced back in the past few days as momentum has risen, The coin has jumped by more than 127% from its highest level this week. It is also being supported by the 25-day and 50-day moving averages. It also seems like it is forming a cup and handle pattern. Therefore, while the future of IOTX is uncertain, for now, it seems like it is a better buy than IOTA.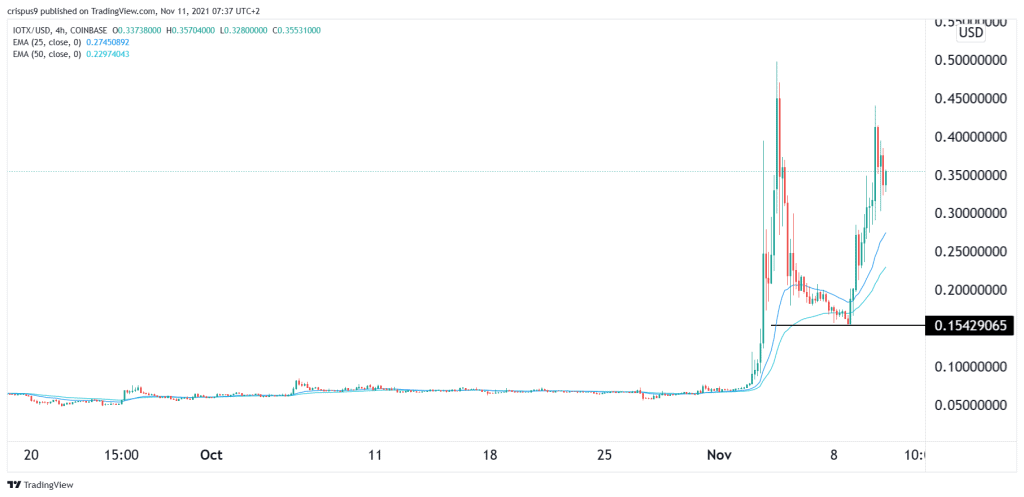 This news is republished from another source. You can check the original article here