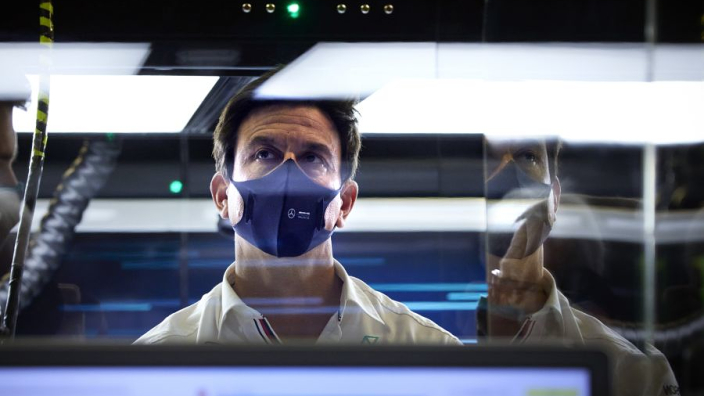 Mercedes team principal Toto Wolff has responded to criticism over F1's new deals with cryptocurrency companies.
The Silver Arrows signed a long-term partnership deal with global cryptocurrency firm FTX back in September while each of the other F1 teams has their own deals in place with various crypto firms.
The cryptocurrency industry is a controversial one due to sustainability issues, which Wolff addressed, but the Austrian believes it is an area that will grow in the coming years as it becomes more relevant to business life.
"The sustainability argument is extremely important but it is not only about mining and the energy it consumes but also where the energy comes from," said Wolff.
"But you can't shut yourself down to modern technology. It is definitely an area that will grow.
"I think when we are looking back in 10 years time having made payments that take two days and can't be done outside of week hours, it is something that is going to be a relic of the past and this is where cryptocurrency has come in.
Wolff "fascinated" by crypto exchanges
Having taken the time to learn about the industry, Wolff sees F1 as a good opportunity for its exposure and believes the sport can act as an aid in it achieving its sustainability targets.
"They are their own industry," he added.
"This is why they have become a major player in the financial world and obviously seek exposure through Formula 1. We all benefit from it but also learn from it.
"For me, it was fascinating to understand crypto exchanges. FDX is a crypto exchange handling billions of transactions every day so that is something that you can't stop and you have to do it right.
"We are certainly a good sparring partner for them in terms of sustainability targets."
This news is republished from another source. You can check the original article here