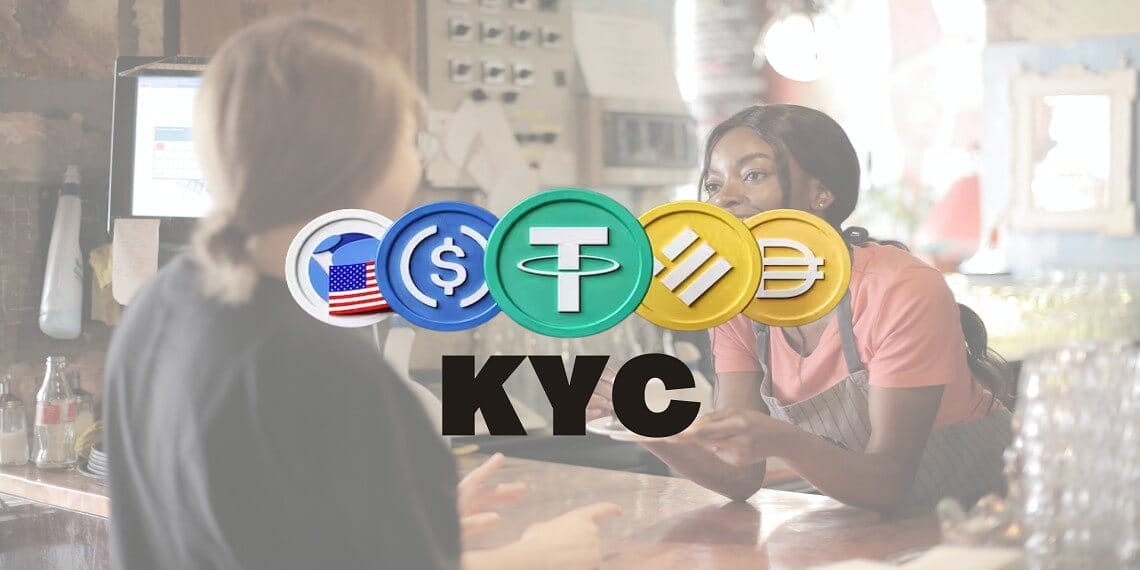 Variables like supported assets, low trading fees, payment options, and security are considered priorities by traders in selecting the best trading environment. Keeping trading activities under the radar for no tax and other "security" purposes is another important preference and so, no KYC (Know Your Customer or user identity verification) is more popular. What are the best no KYC crypto exchanges?
Without counting apps and platforms that combine trading in stocks and other assets with cryptocurrency, there are more than 300 cryptocurrency exchanges that focus solely on digital currency. According to data from CoinMarketCap, more than 5000 cryptocurrencies are available for trading.
Cryptocurrency exchanges can be either decentralized—requiring customers to store their own private keys for their wallets—or centralized—controlling the keys. To comprehend the keys, you can study how cryptography operates. Decentralized exchanges are said to be safer because if a user possesses the keys, a hacker can't steal money, and if an exchange is shut down, users may still get their money back.
Many cryptocurrency exchanges allow trades without performing KYC and AML checks, offering complete privacy and anonymity. To protect yourself from fraud and scams, you should exercise extreme caution while selecting a cryptocurrency exchange and looking into its history.
Also Read:
What is KYC?
In the banking industry, KYC stands for "Know Your Customer" or "Know Your Client." The obligation imposed on financial institutions (or, in the world of cryptocurrencies, exchanges) to carry out particular identity and background checks on their users before granting them access to their platform or product is referred to. Regulators use this system as part of a bigger collection of tools to combat money laundering and fraud worldwide.
Personal information that may be used to verify identities, such as an ID card, passport, or utility bill, is required for identity verification.
KYC is generally used to:
Observe transactions
Follow criminal activity (such as money laundering)
Defend against terrorism financing
Is KYC Safe for Customers?
As long as the business you are dealing with has privacy and security measures in place to secure your information, the Know Your Customer procedure is safe.
As a result, always make sure that you only give information to the company you are attempting to become verified with. Scammers may try to exploit KYC verification as a ruse to steal your information.
It's crucial to keep in mind that KYC cannot be conducted over the phone because it requires visual paperwork; any phone contact requesting personal information connected to KYC is a fraud.
The majority of the best cryptocurrency exchanges adhere to stringent KYC (Know Your Customer) processes in order to abide by regional anti-money laundering laws. By implementing KYC, a cryptocurrency exchange may make sure that users are authenticated before being permitted to trade on their platform. This is done to stop fraudsters from opening accounts on cryptocurrency exchanges using fictitious identities and transferring stolen money.
Best no KYC crypto exchanges
There are a lot of cryptocurrency exchanges available that allow trades without performing KYC and AML checks, offering complete privacy and anonymity. To protect yourself from fraud and scams, you should exercise extreme caution while selecting a cryptocurrency exchange and look into its history.
In order to shorten and simplify your task, we have compiled a list of trustworthy no-KYC exchanges with a solid trading platform for you to select from.
1. Bybit-best no KYC crypto exchange
It is one of the most well-known derivatives exchanges, and if KYC were implemented, it would gain much more traction. This exchange is based in Singapore and was established in 2018. People like to trade through Bybit crypto exchange because they have so many incredible features to offer. Traders who enjoy experimenting with margin trading could use this platform.
They merely require an email address and password for users to sign up and trade more than 400 coins. The only restriction of joining Bybit without KYC is that you can only withdraw a maximum of 2 Bitcoin per day (BTC).
Other aspects of its exchange, such as Crypto Staking, the NFT Marketplace, the NFT Wallet, and many more, are also accessible without KYC.
Additionally, it enables USDT perpetual and Inverse perpetual contracts; one of its most well-known products is BTC-USD. It offers trade-in contracts for BTC/USD, ETH/USD, XRP/USD, and EOS/USD with leverage of up to 100X on BTC/USD contracts and up to 50X on the other trading pairs. You would be shocked to learn that it has more than 1.2 million registered users.
Within just a few years, it rose to the top thanks to its volume, speed, and interface. Bybit offers a wide selection of instructions for trading cryptocurrency derivatives, including practical advice and methods.
Bybit is one of the few exchanges that offer 24/7 customer support. The team is responsive and attentive, which is a huge plus for users. The platform has a user-friendly interface that is easy to navigate. It is also mobile-friendly, so you can trade on the go.
The downside of Bybit is that it is not available for US residents, as Bybit blocks access to IP addresses in the US. However, since there is no KYC required, if you really want to use Bybit, you can download a VPN and set the location to Australia, where Bybit is accepted.
2. Binance
This is yet another top cryptocurrency exchange that does not require KYC; it accepts all Altcoins and allows users to access it anonymously. They are based in China and have more than 6 million users, however, due to several restrictions, they moved to Malta in the EU.
Recently, it surpassed Bittrex and boats' 24-hour trading volume of about $4 million. With Binance, you may trade, withdraw money, and make deposits without having to update KYC for every user, and you can withdraw up to two bitcoins every day.
By trading volume, Binance constantly ranks as the top cryptocurrency exchange on the market. Its $4 billion average daily trading volume demonstrates its appeal.
Binance was founded in July 2017 and was first situated in China, but due to the country's stringent laws, it eventually relocated to Malta in the EU. Spot trading, derivatives trading, mining pools, financing, and branded cryptocurrency debit cards are all available on Binance.
The 8th-ranked BNB coin, in terms of market capitalization, serves as the fuel for the Binance ecosystem. It allows trading in a huge number of cryptocurrency pairs and offers up to 125X leverage on futures contracts.
Trading on Binance is the most affordable, and the users' 30-day trading volume determines the trading charge. For the first level, the maker charge and taker fee are both 0.10%. Additionally, if you pay with BNB tokens, you are eligible for a 25% discount.
Binance does not accept deposits or withdrawals in fiat currency. The daily withdrawal cap for a non-verified account is 2BTC, which is a large amount. By submitting to identification verification, the daily withdrawal cap may be increased up to 100BTC.
All you need to open an account with them is an email address, and the good news is that spot trading is also allowed without any KYC. However, you should be aware that in order to use the site, users who trade larger amounts of BTC must complete KYC. Additionally, users from the United States would need to use Binance U.S. because they must update their KYC.
3. PrimeXBT
One of the decentralized exchanges without KYC and trade restrictions is PrimeXBT which provides trading services for stocks, cryptocurrencies, FX, and leverage.
It provides access to many cryptocurrency trading pairings. Ripple, Litecoin, EOS, ETH, and BTC are among them. Most trading assets are based on Bitcoin, and you can trade them without having your KYC verified.
It includes a customized user interface where order types, charts, and indicators can be added. Both seasoned traders and newcomers to the market can use the various monitors. PrimeXBT can be used as a crypto scanner as well.
The platform's trading commission stays constant throughout. The trading fees' predictability makes it incredibly convenient. To sign up and manage your personal account information, you need an email address.
Expert traders can use whichever indicators and charts they choose using PrimeXBT's configurable interface. Although PrimeXBT charges only 0.05% in fees, keep in mind that this applies to CFD margin trading (with up to 100x leverage). In contrast to spot trading, CFD trading allows you to go long or short, allowing you to profit when the price of a cryptocurrency declines.
PrimeXBT does not support spot trading, therefore, if you want to do it, you'll need to look at one of the alternatives.
4. AAX
Another no-KYC cryptocurrency exchange alternative is AAX, which is the greatest option for anyone searching for a wealth of advanced features. Along with opportunities for earning interest in cryptocurrencies, AAX offers spot trading, futures trading, and an OTC service desk. The exchange is run by LSEG Technology, which makes transactions extremely quick.
Even though AAX has a ton of capabilities, beginners may still use it because it is simple to use and has a learning center and live chat help if necessary. More than 20 fiat currencies are supported, and more than 100 cryptocurrencies are available. The maker/taker fees for spot trading are only 0.1/0.15%, while for futures trading, they are 0.04/0.06%. One drawback of AAX is that US citizens cannot use it, therefore, if you reside in the US, you will need to select a different solution.
5. BitMEX
BitMEX was established in 2018 and is among the finest cryptocurrency exchanges without KYC. Despite being relatively new on the market, it is a well-known altcoin exchange with top-notch features and services. The advantage is that it offers altcoin trading on margin for less liquid cryptocurrencies. With Bitmax, deposits and withdrawals don't call for KYC or AML.
Although BitMEX is primarily a BTC exchange, you may also find a number of alternative coins there, like Cardano, DASH, ETH, Bitcoin Cash, ETH classic, etc. They provide consumers the chance to earn money for leasing BTMX by holding frequent airdrops. If you desire an exchange without KYC verification, BitMax can be one of your options because of its high volume and user-friendly.
The only information you need to input in order to register and join up with them is your email address. While there is no need for verification, there is a daily volume cap of 1 BTC without KYC, and in some circumstances, withdrawal may require KYC to be updated. Therefore, before registering with them, you should study their policies. You don't need to worry about liquidity with Bitmax as they have a huge volume of around 126,000 BTC with a ranking in the top 10 on CMC.
6. Changelly
A centralized Altcoin trading business called Changelly does not force you to comply with KYC or AML requirements in order to use its services.
You don't need to register for their services or submit ID verification. You can also utilize a VPN in conjunction with this service for increased security.
To exchange for BTC or any other supported currency using this technique, you must have supporting altcoins like LTC, ETH, DASH, etc. If you have altcoins, you can use Changelly to acquire bitcoins instantly and without verification.
7. BaseFEX 
BaseFEX is a non-KYC cryptocurrency exchange that focuses on trading derivatives. It provides trading in futures using Bitcoin (BTC). You can use it to access contracts with high leverage across all asset classes. EOS, BNB, XRP, BCH, ETH, and BTC all have swap contracts available. It is a completely decentralized exchange that enables KYC-free trading.
On BaseFEX, leveraged contracts are now accessible. It is available on all cryptocurrency kinds, with the exception of contracts settled in BTC and USDT. BaseFEX offers derivatives with a 100X maximum. Users are greatly drawn to it because of its minimal trading expenses.
On the platform, BaseFEX checks for and suppresses instances of market manipulation. To expedite transactions with a high trading volume, it uses powerful servers. It is one of the greatest non-key exchanges available, and its API is simple to use. Access to various data kinds is simple, and the interface is easy to use.
For security reasons, BaseFEX keeps all of its assets in cold wallets. Hackers won't compromise your cryptocurrencies. Users who want to trade cryptocurrencies without KYC find the lack of verification appealing.BaseFEX pays you using USDT and BTC and has an insurance fund on the leverage feature.
BaseFEX offers order types, including Stop Loss/Take Profit, Trigger, and LimitMarket.
8. 1InchExchange
One of the top non-KYC exchanges for ERC20 tokens is maybe 1Inchexchange. You can use it as a DEX aggregator to find the best prices from decentralized exchanges like Uniswap, Sushi, and others. This is the finest website for you if your goal is to trade without thinking about KYC.
You can connect to 1inchexchange using metamask or any wallet connect-supported crypto wallet.
9. MEXC
MEXC is the best no-KYC cryptocurrency exchange for US citizens. One of the most well-known cryptocurrency trading platforms is MEXC, which has a lot to do with the fact that it has more than 2110 markets to choose from! With trading costs of only 0.2% for spot trading and only 0.02% for futures trading, they are fairly reasonable.
Another great MEXC feature is copy trading, which enables users to emulate the trades of profitable investors automatically. This is excellent for novice traders as well as seasoned traders who don't want to spend time learning about the market and performing technical analysis. The platform offers several friendly including free $25 USDT plus 10% off trading fees, over 1,520+ coins, 2,110+ trading pairs, spot, margin, and futures trading available. Also, MEXC offers low fees of 0.2% for spot trading and 0.02% for futures and copy trading.
10. Bitfinex
This exchange consistently ranks among the best in the world. With more than ten years on the market, Bitfinex has consistently led the way in terms of technological innovation for trading digital assets. They want to offer the greatest cryptocurrency trading experience to its customers.
They are renowned for providing the industry's deepest liquidity order books and unmatched levels of customer service. On this platform, you can engage in a wide range of activities, including trading, derivates, funding, securities, margin trading, and much more. As a result, Bitfinex can also be considered the birthplace of trading digital assets.
It offers a configurable user interface that enables you to create your own layout, choose from several themes, and configure notifications. It includes a variety of order types so that traders have the resources they need in any situation.
They offer order books with high liquidity, allowing users to quickly and with little slippage swap BTC, ETH, Ripple, Litecoin, NEO, and other digital assets.
11. KuCoin
In September 2017, KuCoin began offering its services, becoming the top alternative coin exchange. The exchange features a number of high-caliber cryptocurrency projects that have the ability to transform the market completely. Additionally, it seeks to give users a very safe and practical trading environment.
IDG Capital and Matrix Partners, two VC firms, have successfully invested in the exchange.
The exchange is an expert in lending, staking, derivatives, mining pools, spot trading, and margin trading. More than 400 distinct markers are available for trade, and its trading charge structure is extremely affordable. The exchange only allows trading pairs between crypto assets, and its daily trading volume is close to $100 million.
The KuCoin platform has a number of important features, including a robust API interface, bank-level asset security, a quick trade matching engine, affiliate networks, and bonuses.
Both the maker and taker fees are 0.1%, and KCS holders are eligible for a 20% discount and no deposit fees.
For those who prefer to automate their trading, KuCoin even offers FREE trading bots on its site. Spot Grid, Futures Grid, Smart Rebalance, DCA, and Infinity Grid are among the bots that you have access to. As the trades will be completed depending on your settings, without further input from you, you will be able to profit from market swings even when you are offline by employing these bots. The fact that KuCoin offers trading bots for free is a huge plus, as you typically have to pay for them.
12. Kraken
Kraken has four levels of verification. Users who fall under Tier 0 are just allowed to browse the site and are only required to submit their email. Those that enter their complete name, birthdate, nation, and phone number are immediately elevated to Tier 1, meaning they can only make deposits and withdrawals in digital currency.
One of the few exchanges worldwide that permit US consumers to trade futures with leverage of up to 50 times. The Kraken exchange also provides institutional account management, an OTC desk, and other services. However, you are only able to withdraw $5,000 USD and $1,000,000 USD every hour, respectively, without KYC.
13. Bisq decentralized crypto exchange
Bisq completes our ranking of the top no-KYC crypto exchange. This exchange is special because it is entirely decentralized and requires no personal information from you—not even your name. Using Tor, Bisq is very secure and doesn't keep any bitcoin or fiat money on the server.
More than 15 different payment options are accessible, and there are more than 125 different cryptocurrencies that may be traded. Trading commissions for makers are extremely cheap at just 0.05%, but they are significantly higher for takers (0.35%).
The fact that you can only trade against BTC on Bisq is a drawback. Trades cannot be made using fiat money or stablecoins like USDT. Before participating in this exchange, bear this in mind.
Exchange Name
Decentralized? (Yes/No)
Crypto Management
Trading Fees
ByBit
No
Custodial
Market maker fee: 0.025%
Market taker fee: 0.075%
Binance
No
Custodial
Market maker fee: 0.02% to 0.1% (based on trading volume)
Market taker fee: 0.04% to 0.1% (based on trading volume)
PrimeBXT
No
Cold Storage
Market maker fee: 0.05%
Market taker fee: 0.05%
AAX
No
Custodial
Market maker fee: 0.06% to 0.10%
Market taker fee: 0.10%
BitMEX
No
Custodial
Market maker fee: 0.01%
Market taker fee: 0.075%
Changelly
No
Non-Custodial
0.25% fee floating rate
BaseFEX
Yes
Non-custodial
Free
1Inch
Yes
Non-custodial
Minimal
MEXC
Yes
Non-custodial
Minimal
Bitfinex
No
Custodial
Market maker fee: 0.1%/.04% (Spot/Futures)
Market taker fee: 0.15%/.06% (Spot/Futures)
1Inch
Yes
Non-custodial
Minimal
KuCoin
Hybrid
Non-custodial
Market maker fee: 0.1%
Market taker fee: 0.1%
Kraken
No
Custodial
Refer to Fee Schedule
Bisq
Yes
Non-custodial
Minimal
Notes: 1. Makers add limit orders to the exchange; than takers fulfill existing orders. 2. Custodial cryptocurrency services is that you do not have autonomy over your wallet. The third party, i.e, the custodian, has complete control over your funds and associated processes. They have the freedom to take action on the funds, including freezing the stored amount.
Which Crypto Exchanges require KYC?
KYC is necessary for centralized crypto exchanges (CEXs). They frequently follow stringent anti-money laundering (AML) and "know your customer" (KYC) laws. In other words, these exchanges are not good for you if you anticipate complete anonymity.
Die-hard cryptocurrency traders are aware of the absurdity of a "centralized" crypto exchange. Centralization in this context refers to the fact that buyers and sellers are kept apart since these exchanges serve as neutral third parties to facilitate transactions. Since most CEXs are custodial exchanges, users often do not maintain their private keys.
In decentralized exchanges, the user maintains control over his private keys and never turn over custody of his assets to someone else. This means there is not a single point of failure and as a result decentralized trading is a much more secure and private experience. Top decentralized exchanges require no personal information and often require no registration of any kind.
How to Buy Crypto Without KYC
Connecting your wallet to a decentralized exchange and exchanging for the cryptocurrency you want to acquire is all it takes to purchase cryptocurrency without completing KYC. Here is a step-by-step tutorial on purchasing cryptocurrency on one of the busiest DEXs, Uniswap, without completing KYC.
Step 1: Download and Fund your MetaMask Wallet
Create and fund your MetaMask wallet as the initial step. Simply download MetaMask, which can be done fast and easily in just a few minutes, and set up your wallet. There is no KYC required when building your MetaMask wallet because it is a Web3 wallet. Additionally, you can directly fund it with a debit or credit card, as well as through bank transfers utilizing Wyre or Transak.
Step 2: Connect your Crypto Wallet to the DEX
Various DEXs support different crypto wallets. MetaMask, Coinbase Wallet, Portis, WalletConnect, and Fortmatic are the 5 wallets that Uniswap currently supports.
Step 3: Buy Crypto without KYC
After signing in to Uniswap, you can switch the ETH in your MetaMask wallet to any other cryptocurrency you like. Enter the amount of ETH you wish to swap in the "Swap" interface, then click the "Select a token" option and look for the cryptocurrency you wish to purchase. Once you've decided which cryptocurrency to purchase, Uniswap will find the best deal for you and display the "Minimum received," "Price Impact," and "Liquidity Provider Fee" for you.
Your cryptocurrency will be reflected in your updated MetaMask balance after the transaction is completed.
Conclusion
These are some of the best cryptocurrency exchanges with great product and feature offers that don't require KYC. The best part is that opening an account only takes a few minutes. However, it is typically a good idea to check their terms and rules, especially their deposit and withdrawal procedures, before completing the registration process.
Applying the rules of the conventional financial system to the cryptosphere severely limits both its effectiveness and its intended use. Cryptocurrency exchanges without a KYC-AML policy typically perform better and offer better products.
Always read the terms and policy papers of any exchange before signing up, especially the deposit and withdrawal policies. You should not divulge any of your personal information to any organization operating in the unregulated market as a matter of safety. KYC (Know Your Customer) allows bad actors to access your personal data and privacy. There are pros and cons to KYC so do your own research.
Disclaimer. The information provided is not trading advice. Cryptopolitan.com holds no liability for any investments made based on the information provided on this page. We strongly recommend independent research and/or consultation with a qualified professional before making any investment decisions.
This news is republished from another source. You can check the original article here