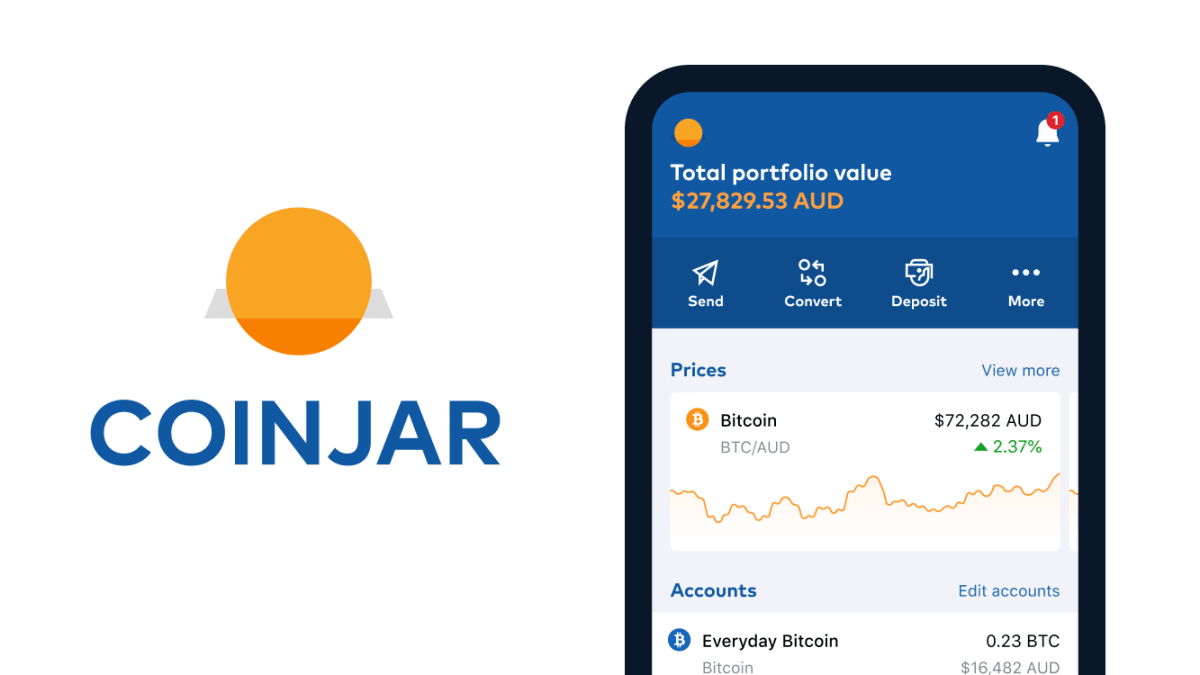 Supported Coins
CoinJar enables users to exchange Australian dollars for more than 50 cryptocurrencies, such as Bitcoin, Ethereum, XRP, Litecoin, Uniswap, Shiba Inu, Dogecoin, etc.
Compared to CoinSpot, which offers more than 370 cryptocurrencies, CoinJar's selection of crypto assets is quite limited, particularly in terms of altcoins. This is one area that could be enhanced to cater to savvy investors.
Deposit Methods
Once your CoinJar account has been verified; you can use the following methods to fund it:
Bank transfers:

 You can make cash transfers from a bank or financial institution in Australia. Clearing transfers may take between 1 and 3 business days.

PayID/NPP:

  PayID/

NPP

 allows you to send near-instant payments from a compatible Australian bank account. PayID deposits are supported by OSKO® and NPP, both of which are accessible 24/7. The maximum amount is $100,000, exclusive of any restrictions imposed by the banking institution.

Cash Deposit:

 Blueshift allows users to deposit cash at over 1,300 retail locations throughout Australia. Please note that deposits must be at least $50 and cannot exceed $5,000 daily.

Cryptocurrency: 

Transfers of cryptocurrencies are limited to Bitcoin and often take 15 minutes, depending on network congestion.
Fee Structures
Instant Buy & Sell Fees
CoinJar imposes a flat 1% fee on all trading assets for the instant buy and sell of cryptocurrencies. The charge is similar to other exchanges, such as Swyftx. Beginners who don't how to place orders on the CoinJar Exchange, where the fees are lower, should seek cheaper options where the charges for instant crypto purchases range from 0.5% to 0.6%.
Crypto purchases using Visa, Mastercard, Apple Pay, and Google Pay will be subject to a 2% charge, which is indeed high in the Australian market. It is possible to use the CoinJar Exchange, which has a different fee structure as described below.
CoinJar Exchange Fees
CoinJar Exchange's maker and taker fees for cryptocurrency and AUD/GBP pairings begin at 0.00% and 0.10 % per deal, respectively. The trading fee is taken from the account balance and has no impact on the order's original margin. Due to the tiered fee structure, discounts apply based on the 30-day trading volume, with fees as low as 0.04% for users who trade more than $10 million.
| | |
| --- | --- |
| TRADING VOLUME (30 DAYS) | FEE (TAKER / MAKER) |
| $0 – $10,000 | 0% / 0.10% |
| $10,000 – $100,000 | 0% / 0.09% |
| $100,000 – $1m | 0% / 0.08% |
| $1m – $10m | 0% / 0.06% |
| $10m+ | 0% / 0.04% |
Deposit & Withdrawal Fees
The deposit fees associated with sending fiat cash into CoinJar are dependent on the method of deposit:
PayID / NPP: Free (no fee)

Cash deposit: 1.5% fee

Crypto: Free (no fee)

Credit & debit card: 2% fee
Withdrawals in AUD are not subject to processing fees. The fee for international or non-AUD withdrawals is $20. When a user withdraws cryptocurrency from the exchange, a network fee will incur, depending on the load on the blockchain network.
Features of CoinJar
CoinJar has launched cutting-edge items to distinguish itself from Australian digital currency market rivals. These products strive to diversify their service offering by introducing new ways to put cryptocurrencies in the hands of hundreds of thousands of users.
CoinJar Exchange
CoinJar's crypto trading platform CoinJar Exchange differs from the CoinJar fiat-to-crypto exchange that has existed for many years. You may use your CoinJar email address and password to access your digital currency account.
                               CoinJar crypto exchange. Image: CoinJar
CoinJar Exchange is designed for traders who can read live cryptocurrency charts. The interface is basic and aesthetically pleasing for novices. However, it lacks the trading tools and functionalities anticipated by cryptocurrency exchanges.
CoinJar Card
The CoinJar crypto debit card enables users to spend digital money at any Australian merchant that accepts Mastercard. It can also be used to withdraw cash from any ATM or merchants with cash-out facilities. There are no monthly activation or transaction fees but a 1% ATM withdrawal fee and a 2.99% international transaction fee.
                                 Mastercard-powered CoinJar Card. Image: CoinJar
Due to its benefits, the CoinJar Card is an excellent entry-level debit card for crypto novices. 1% of the transaction value will be refunded in the form of CoinJar Points, which can be used to pay for crypto trading fees or to purchase items and gift cards from the CoinJar Rewards Store. You can also earn CoinJar Rewards by referring friends and relatives to CoinJar and conducting crypto-to-crypto exchanges on the mobile app.
Crypto Bundles
The CoinJar Bundles feature enables customers to purchase various digital currencies in a single transaction. Customers may swiftly diversify their portfolios while paying lower transaction fees by buying bitcoin in bulk instead of making transactions individually.
CoinJar's crypto bundles are common since they concentrate on cryptocurrencies with substantial market capitalisation. For instance, consumers can buy the Popular Trio package, which contains Bitcoin (50%) and Ether (46%), as well as Ripple (4%). However, a point that needs improvement for CoinJar is the ability of users to design their bundles.
                           CoinJar crypto bundles. Image: CoinJar
CoinJar SMSF
CoinJar, like many other Australian crypto exchanges, offers assistance to clients who wish to invest in digital assets as part of a Super Fund for retirement purposes. Users must open a Self-Managed Super Fund (SMSF) account to comply with Australian government regulations.
Investors can take advantage of 100% local customer service, cheap fees on the CoinJar Exchange, a tailored Over-The-Counter (TC) desk for high-volume trades, and straightforward End-of-Financial-Year tax filing after their account has been authorised.
                                   CoinJar's Self-Managed Super Fund (SMSF). Image: CoinJar
CoinJar Security
Site Security
According to its website, CoinJar employs several security measures to secure the assets and information of its customers, including data encryption, Transport Layer Security, quarterly security audits, and best-practice organisation security. It also uses sophisticated machine learning algorithms to detect fraudulent logins, account takeovers, and money fraud.
Account Security
CoinJar offers two methods of Two Factor Authentication (2FA) to prevent unwanted access to user accounts.
Authentication mobile app

SMS authentication
Authenticator apps such as Google Authenticator or Authy can be installed on a mobile device. Every 30 seconds, a new authentication code is generated. Once the app is linked to the CoinJar account, users have to enter the code to log in.
SMS authentication works by sending an SMS to a mobile device. All users need to do is input the code supplied to the phone. This improved security solution is less secure than using the app. Phone providers do not encrypt SMS messages, making them susceptible to security concerns such as port forwarding and interception.
Wallet Security
According to their website, at least 90% of their customers' digital assets are stored in cold storage. The hardware wallets are maintained offline in geographically-redundant, safe locations. Additionally, the exchange has a multisig withdrawal process with multiple staff required to execute withdrawals. Curiously, the exchange keeps total reserves and adequate assets to support customer balances and currencies.
Customer Support
The CoinJar knowledge base contains how-to guides and answers to the most commonly asked questions about the platform. The guide covers issues such as authenticating the user's identity, depositing cash through bank transfers, and transferring payments in digital currency.
Unfortunately, the only way to contact customer service is by submitting a ticket with a brief description of your issue. In contrast to most Australian crypto exchanges, CoinJar does not offer a live chatbot or phone service 24/7.
CoinJar Alternatives
CoinJar is a highly-rated crypto exchange that offers a range of options to Australian investors and traders. However, given its drawbacks, you can opt for other exchanges, such as:
CoinSpot: 

As an Australian cryptocurrency platform, CoinSpot Australia has developed a solid reputation and trustworthy image. With highly competitive fee structures and high security, it focuses on assisting novices in purchasing Bitcoin and other cryptocurrencies with Australian dollars.

Swyftx

: 

This popular platform enables customers to quickly and easily acquire cryptocurrency, yet its fees are a bit high, and has been hacked a few times. The registration procedure is straightforward, with sign-up and verification taking less than two minutes.

Binance Australia:

 Binance, an exchange renowned for its innovative trading products and services, delivers numerous features to the Australian market. The trading platform supports over 600 cryptocurrencies and offers liquidity to Australian brokers such as 

Swyftx

 and Digital Surge.

Digital Surge: 

This Australia-based cryptocurrency exchange makes buying, selling, and storing crypto very simple. With a focus on ease of use, the platform makes crypto as pleasant and straightforward as possible.

Independent Reserve: 

It is a global cryptocurrency exchange with cheap trading costs and support for traditional fiat currencies like the Australian Dollar, New Zealand Dollar, and United States Dollar.
Frequently Asked Questions
Is CoinJar crypto exchange secure?
CoinJar employs several security measures to safeguard the Bitcoin, Ethereum, Litecoin, and other assets kept in the wallet. Some security mechanisms are in place to protect the wallet's money, including data encryption, Transport Layer Security, quarterly security audits, and best-practice organisation security.
Do I need CoinJar KYC to start trading?
To purchase and sell cryptocurrencies on CoinJar, you must first authenticate your identity. All new users must upload their identity documents. These safeguards are in place to protect the exchange and its investors from money laundering and terrorism funding.
Does CoinJar have a mobile app?
You can use CoinJar's mobile app for iOS and Android smartphones to buy and sell cryptocurrency. The platform's online version is mobile-friendly and can be used on smartphones.
Which countries is CoinJar available in?
Australian citizens have access to the CoinJar platform, a burgeoning crypto exchange in the United Kingdom for buying and selling digital currencies. According to the website, CoinJar is a digital currency wallet that can be used to transmit, receive, and store crypto. This does not, however, imply that investors in all countries can deposit funds to CoinJar owing to country-specific rules.
Does CoinJar have a referral program?
CoinJar features a referral programme where users use their referral code to invite friends or promote the exchange via content, videos, or ad placements. Anyone who uses your referral link to sign up for CoinJar and subsequently verifies their identity will automatically receive 500 CoinJar Rewards points. In addition, you will get 500 points for inviting them to join CoinJar. The CoinJar Rewards Store allows for the redemption of CoinJar Rewards points.
Conclusion
In conclusion, our CoinJar review reveals that the exchange looks like a legitimate and secure platform for Australians to purchase bitcoin. Many enhancements might be made to the Exchange, such as extending the number of supported coins and introducing advanced trading features. The 1% trading fee for instant buy/sell orders is higher than other exchanges and should be avoided, as there are cheaper alternatives in Australia.


This news is republished from another source. You can check the original article here