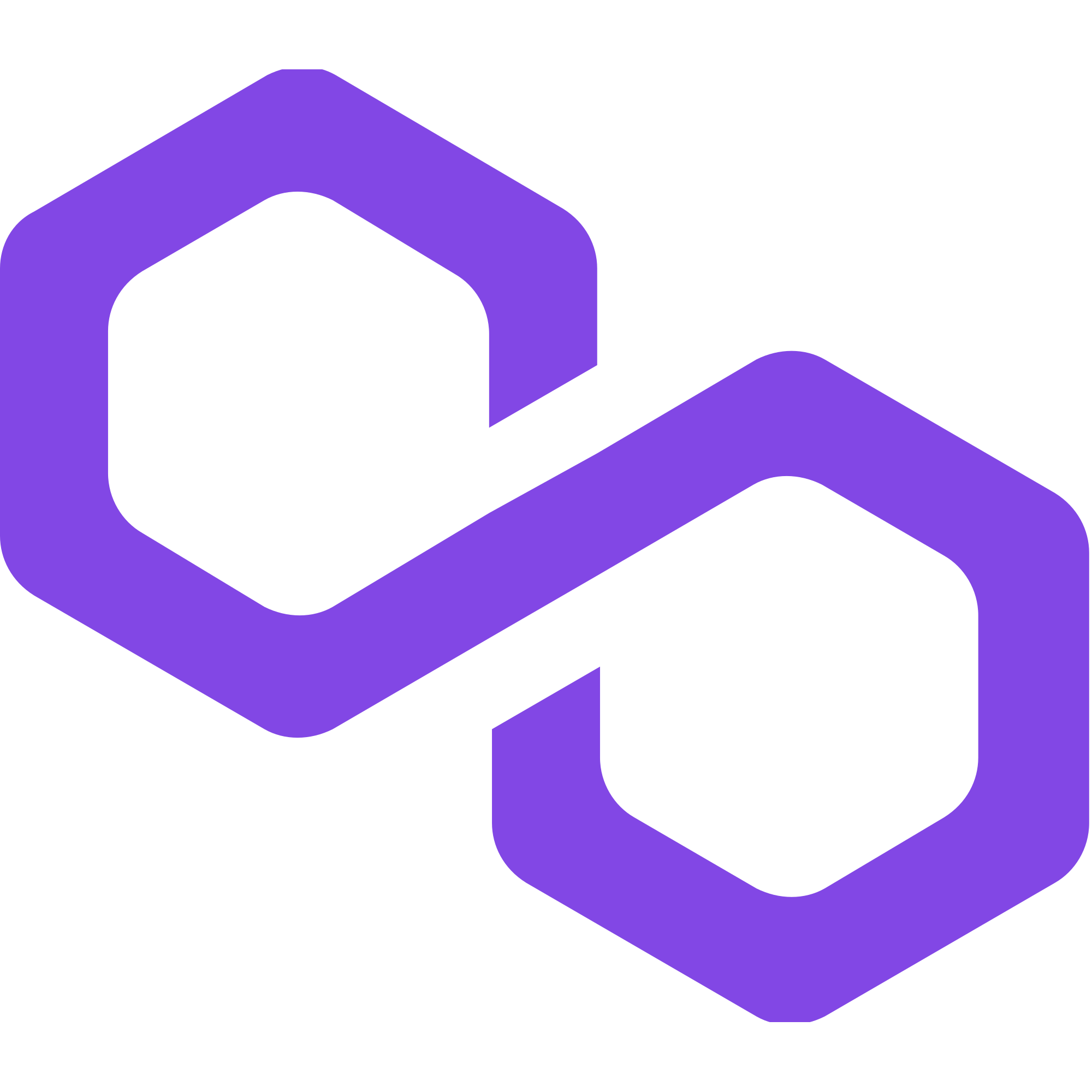 Decided Polygon is a good investment? You can get MATIC on Coinbase today.
As cryptocurrency popularity heightens, many large blockchains are struggling to handle the increased capacity. As such, transaction fees have gone up drastically, especially on the Ethereum chain. For instance, transaction fees on Ethereum used to just be a couple cents in its early days. However, transaction fees could be thousands of dollars at their peak. This is where Polygon steps in. Polygon aims to create a  Layer 2 solution for Ethereum to reduce the load on the Ethereum mainnet, and in turn, lower transaction fees. 
Is Polygon (MATIC) Here to Stay or Just a Fad?
As a sidechain to Ethereum and soon to be a Layer 2 solution, Polygon allows Ethereum-based transactions to occur outside of the main Ethereum chain. This practice allows for lower fees on transactions. Additionally, it lets users create their own chains and currencies and add to the overall Ethereum network. 
The project's token, MATIC, is both used for governance and utility. For governance, it allows holders to vote on new projects and initiatives. For utility, it is used for both transaction fees and transaction verification. Unlike Ethereum, which uses a proof-of-work (PoW) system, Polygon uses a proof-of-stake (PoS) system to verify its transactions. 
MATIC is currently trading for around $1.00 and has a market capitalization of over $8 billion. About 78% of the total supply is currently in circulation. 
Polygon (MATIC) History
Polygon was founded in October 2017 by a team who had experience with development on the Ethereum blockchain. They saw possible issues related to the network's capacity and decided that Polygon would be a great opportunity to help Ethereum scale. 
For the first couple years after launch, Polygon saw minimal growth. However, several major projects began using its network, such as AAVE, MetaMask and CurveDAO. These projects brought both use cases and trading volume to the project, which sent the coin upwards. The token soared from less than $0.01 to nearly $2.50 in a few months. However, it has since fell back to its current price of around $1.00
Pros and Cons of Polygon (MATIC)
Polygon has a variety of both pros and cons. For pros, it has real use cases and an experienced team. For cons, it is heavily reliant on Ethereum and may struggle to stack up against its competition.
Polygon is part of a small group of crypto projects that offers real use cases. It supports reducing transaction lower fees for everyone and encourages decentralized finance (DeFi) activity. Additionally, it has one of the most experienced teams, backed by computer engineers, blockchain developers and business consultants. This experience can allow them to shine in areas their competitors can not.
In terms of cons, Polygon is deeply connected to the Ethereum network. As such, if Ethereum begins to struggle, then so will Polygon. Additionally, ETH 2.0  is supposed to lower the strain on the network and allow for lower transaction fees; however, this transformation likely won't happen for years. Ethereum plans to conduct the Merge to PoS this year, but it's a common misconception that this change will immediately lower transaction fees.
If Ethereum can scale itself, then Polygon will not be needed as much as it is right now. Additionally, Polygon can only connect Ethereum-compatible applications. Other projects are able to connect multiple chains and can provide more use cases. 
Polygon (MATIC) Competition
While there are many major competitors of Polygon, Polkadot is the largest as of right now. Other competitors include Cosmos, Kusama and Arbitrum. Polygon looks to mainly improve the Ethereum network by connecting it to other Ethereum-compatible blockchains and helping scale the Ethereum network. Polkadot looks to create a network of many blockchains, not just Ethereum-compatible chains.
Polygon hopes to expand the Ethereum network by creating a multi-chain system. It allows for almost anyone to create new protocols on the Ethereum chain. Polygon can take advantage of the security and decentralization of the Ethereum network when it transitions from a sidechain to a Layer 2. 
Polkadot is a network that looks to connect many smaller blockchains. It differs from Polygon in that it's a Layer 1 solution, meaning that it uses its own blockchain separate from Ethereum. Polkadot currently supports 100 parachains or parallel blockchains. The project hopes to help blockchains communicate with each other by connecting them.
Polkadot is currently trading around $15 with a market cap above $14 billion. 
How to Make Money With Polygon (MATIC)
1 Minute Review
Maybe you think cryptocurrency is the future, or perhaps you were swept up in the initial waves of Bitcoin. BlockFi may be your next step if you're ready to evolve as a crypto investor.
Whether you're a native crypto user or curious enough to start investing, BlockFi seeks to bring institutional-grade financial products to crypto markets that often face restricted access. It strives to bring clients low-cost, simple applications designed to maximize the potential of crypto assets. Learn more in our BlockFi review.
Best For
Crypto native clients
Crypto curious clients
Pros
Mostly fee-free platform
Market-best interest rates
Earn interest, trade and borrow from a centralized hub using the BlockFi app
Cons
Mostly restricted to those with a base knowledge of cryptocurrency
No dedicated relationship with an investment advisor, so best for those who have a solid handle on crypto trading
As with any investment, the simplest way to profit is to buy low and sell high. However, it can be extremely difficult to time your trades in a way that allows you to do this consistently. Fortunately, there are multiple ways to earn MATIC through DeFi technology. 
First, you can earn interest on your MATIC position through exchanges. You can earn over 10% APY on your MATIC position by staking it with sites such as Crypto.com and BlockFi. 
Another way to earn passive income on your MATIC position is to stake it. This can be done through the Polygon website and can generate steady returns.  
How to Buy Polygon (MATIC)
1 Minute Review
Gemini is a cryptocurrency exchange and custodian that offers investors access to over 100 coins and tokens. Founded in the US, Gemini is expanding globally, in particular into Europe and Asia. Offerings include both major cryptocurrency projects like Bitcoin and Ethereum, and smaller altcoins like Orchid and 0x.
Gemini is 1 of the only brokers with multiple platform options based on skill level. New investors will love the streamlined interface of Gemini's mobile and web apps, while advanced investors might appreciate all the tools that come with ActiveTrader. 
In addition to a host of platform choices, Gemini users also have access to insured hot wallets to store tokens without worrying about digital asset theft. Learn more about what Gemini can do for you in our review.
Best For
New investors looking for a simple mobile and web app
Day traders looking to use technical analysis tools
Users looking for a 1-stop-shop to buy, sell and store all of their cryptos
Pros
Easy and quick signups — can get started in as little as a 5 minutes
Multitude of platforms to accommodate traders of all skill levels
Hot wallets include insurance to protect your from theft and hacking attempts
Cons
Charges both a commission and a convenience fee for users buying and selling through the desktop or mobile app
Since Polygon is a relatively large project, it can be bought on a variety of prominent exchanges, such as Coinbase Global Inc. (NASDAQ: COIN), FTX, Gemini and Crypto.com. These exchanges are known for their ease of use, low fees, and overall security.
To open an account, simply register using an email and password. You will then have to provide some basic personal information to verify your account. Then you can connect your bank account and begin trading.
So, is Polygon (MATIC) Here to Stay?
As Polygon is almost exclusively dependent on the Ethereum chain, ETH's success will almost certainly be correlated to MATIC's. Additionally, Polygon does well when the Ethereum network is under high transaction volume. If ETH 2.0 can solve the issue of excess demand for transactions, then Polygon may suffer. Conversely, if ETH 2.0 cannot handle the strain of the transaction volume, then Polygon could prove to be extremely useful.
This news is republished from another source. You can check the original article here