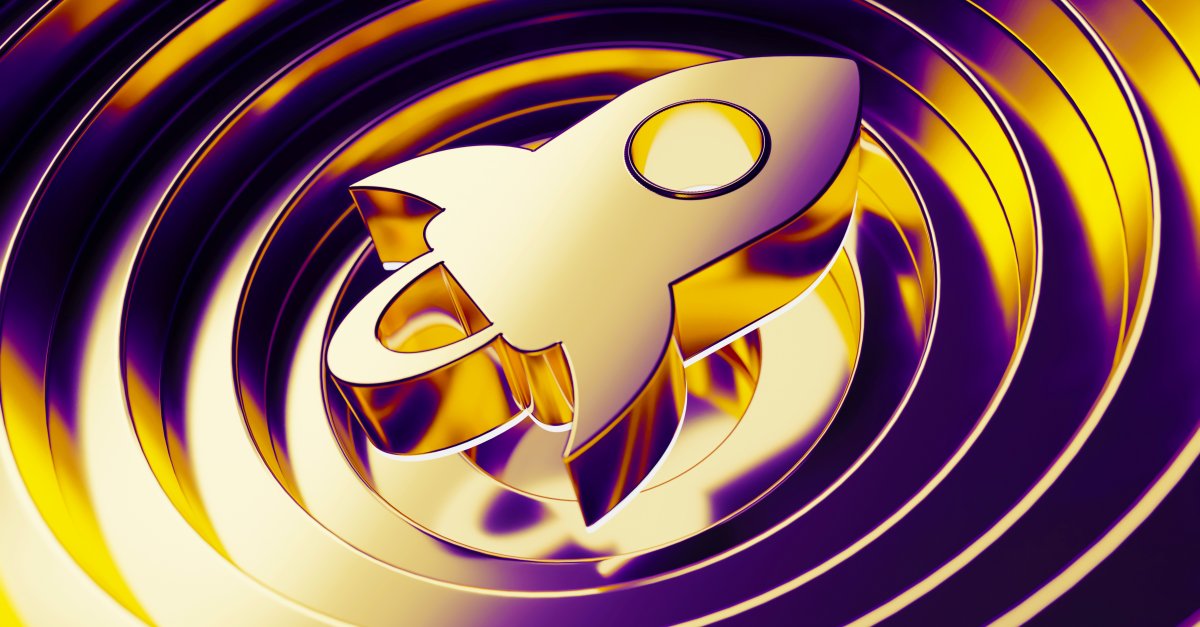 The price of the Stellar cryptocurrency token (XLM) has stabilised, in line with other cryptocurrencies, after plunging in May amid negative sentiment shift following the collapse of the Terra stablecoin. 
The XLM/USD price has attempted to break out several times since the start of the year as its development team works on the project's adoption and interoperability. But the token was not immune to the rapid, unexpected collapse of the UST and LUNA coins, which reverberated throughout the crypto space and caused analysts to revise their XLM coin price predictions.
What is a realistic target price for XLM after the recent drop? In this article, we review the latest XLM coin news and price predictions to help you set expectations, should you choose to add the token to your portfolio.
Stellar enables low-cost international transactions
Launched in July 2014, the Stellar cryptocurrency aims to narrow the gap between cryptocurrencies and traditional finance. The blockchain enables fiat currencies and other assets to run in parallel with each other and cryptocurrencies, making it easier to transfer fiat currency into crypto. 
According to the network's website:
"Stellar is an open-source network for currencies and payments. Stellar makes it possible to create, send and trade digital representations of all forms of money – dollars, pesos, Bitcoin, pretty much anything. It's designed so all the world's financial systems can work together on a single network."
Stellar was established as a hard fork, or split, from the Ripple blockchain (XRP) and hence was based on the Ripple Labs protocol. However, some of the code was rewritten. 
The Lumen, or XLM coin, is the network's native token. Users must hold a minimum balance of one Lumen and pay a minimum transaction fee of 0.00001 XLM. According to the Stellar website: "These are small enough to keep Stellar widely accessible, but big enough to discourage large-scale bad behaviour."
Low transaction fees aim to allow users to transfer money quickly without incurring extra processing costs.
Stellar's intro to the platform offers the following example of its utility:
"For example, here's what you can do with Stellar. You can create a digital representation of a US dollar – on Stellar you'd call this a "dollar token"—and you can tell the world that whenever someone deposits a traditional dollar with you, you'll issue them one of your new tokens. When someone brings that "dollar token" back to you, you promise to redeem it in turn for one of the regular dollars in that deposit account.
"Essentially, you set up a 1:1 relationship between your digital token and a traditional dollar. Every one of your tokens out in the world is backed by an equivalent deposit. So while people hold the tokens, they can treat them just like traditional money, because they know that they're exchangeable for traditional money in the end."
Latest Stellar news and developments
The Stellar Development Foundation (SDF) has partnered with some of the biggest companies in finance and tech, including Deloitte, IBM and Stripe, as well as a dozen financial institutions and payment processors in Asia and Europe. Financial institutions around the world can settle payments and issue assets on the decentralised and scalable network.
In early 2022, the SDF published its strategic roadmap for the year based on three building blocks:
Increase scalability and network innovation 

Activate more network participation 

Demand and promote inclusion
In March, the SDF announced Project Jump Cannon, a research and development venture to introduce native smart contracts for the Stellar blockchain. 
This was prompted by the introduction of automated market maker (AMM) functionality for the Stellar protocol last year, inspired by other liquidity pool contracts in decentralised finance (DeFi). 
According to the announcement: "What SDF realised during the AMM rollout is that it's not sustainable to continue to limit key network innovation to protocol-level changes."
SDF also launched the Starbridge project in March to create bridges between Stellar and other blockchains and enable interoperability. 
"If Stellar is to create more equitable access to financial infrastructure, it also needs a way to interoperate with the growing space of DeFi, which now includes other blockchain networks like Ethereum," the project said. 
SDF also announced the first cohort of its four Matching Fund investments totalling $1.5m, and the distribution of $92.5m in overall Enterprise Fund investments since its launch.
On 7 April, the company said that the Canadian crypto trading platform Newton – which has a user base of nearly 450,000 – would add support for the deposit and withdrawal of the USDC stablecoin on the Stellar network.
On 8 June, Stellar's public network validators voted to upgrade the network to Protocol 19. According to an announcement on Stellar's developers blog:
 "Protocol 19 introduces new transaction preconditions and a new type of signer, technical changes that make it easier to build payment channels, bridges to other blockchains, and key recovery solutions on Stellar."
The protocol implemented two Core Advancement Proposals (CAPs). According to a post on the Stellar blog on 6 May, the first will introduce "a new suite of transaction preconditions, which are optional requirements you can add to control transaction validity", such as "transactions that are only valid in a specific time-based window". 
The second CAP "adds a new signer type that allows multiple parties to build a set of transactions for signing that guarantee if one transaction is signed, authorised and submitted, information is revealed that allows all other transactions in the set to be authorised as well."
What is your sentiment on XLM/USD?
Vote to see Traders sentiment!
Stellar price analysis: Technical view
The XLM price chart shows that the coin started this year at $0.2674, having retreated from $0.7965 during the May 2021 cryptocurrency rally and failed to rebound to that level during the September and November 2021 rallies. XLM's all-time high was reached during the January 2018 crypto rally, when it hit $0.9381.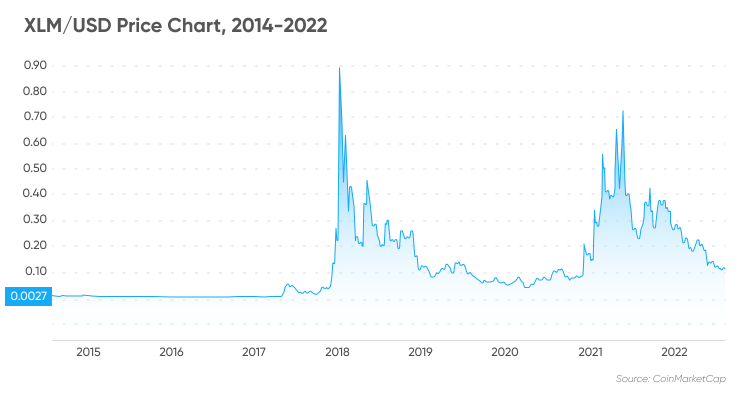 XLM's value initially rose to $0.2956 on 3 January 2022, but fell back to $0.1734 three weeks later. The price rose to $0.2562 on 8 February, and then dropped to $0.163 on 24 February as investors sold off financial assets as Russia invaded Ukraine.
The coin once again rose to $0.2409 at the end of March, but faced yet another sell-off – this time in an extended decline that took the price down to $0.1067 on 12 May 2022, when the Terra coins crashed.
The price has since stabilised around the $0.12 level.
As of 25 July 2022, technical analysis from CoinCodex showed that short-term sentiment on the XLM coin was decidedly bearish. The coin was trading below its five- and 10-day moving averages, signifying a downtrend. 
With a pivot point at $ 0.113399 as of 25 July, XLM had technical support at $ 0.111452 down to $ 0.107647, with resistance levels at $ 0.115256 up to $ 0.119061. 
Stellar Lumens price predictions: Will the coin rebound?
With its roadmap focused on blockchain interoperability – a popular theme in the cryptocurrency markets currently – what is the outlook for the XLM price? What do forecasters see in their short-term and long-term XLM price predictions? 
The Stellar coin price prediction from CoinCodex indicated that the price could drop by 17.82% to reach $ 0.090365 by 30 July.
The Stellar Lumens crypto price prediction from algorithm-based forecaster WalletInvestor estimated that the coin could move up to $0.178 by the end of 2022 and $0.21 by the end of 2023. According to the platform, the coin could trade at around $0.325 by the end of 2025, potentially reaching up to $0.352 in five years.
DigitalCoinPrice's XLM crypto price prediction estimated that the price could average $0.17 in 2022 and stabilise at an average price of $0.17 in 2023 and 2024, based on historical data. Its Stellar Lumens price prediction for 2025 saw the token averaging $0.21 throughout the year, while its XLM future price forecast for 2030 saw it hitting an average of $0.51.
The XLM forecast from PricePrediction.net estimated that the coin could average $0.16 in 2022 and $0.24 in 2023. But its XLM prediction was far more bullish for the longer term, with its artificial intelligence-assisted technical analysis indicating that the price could climb from $0.50 in 2025 to $3.09 in 2030.
Algorithm-based website AI Pickup also had a moderately bullish long-term forecast for XLM/USD. According to the platform, XLM could average $0.09 throughout 2022 and 2023, which would eventually rise to an averages of $0.12 in 2024, $0.14 in 2025, $0.18 in 2026 and $0.27 in 2027. The website's Stellar Lumens price prediction for 2030 saw the token rising to average $1.28 that year.
If you're looking to trade or invest in XLM, it's important to keep in mind that cryptocurrency markets remain extremely volatile. It is difficult to provide an accurate projection of what a coin's price will be in just a few hours, and even harder to give long-term estimates. As such, analysts and algorithm-based forecasters can and do get their XLM price predictions wrong.
We recommend that you always do your own research, and consider the latest market trends, news, technical and fundamental analysis, and expert opinion to come up with your own stellar lumens coin price prediction before making any investment or trading decision. As always, you should be aware that past price performance is no guarantee of future returns. And never invest or trade more than you can afford to lose.
FAQs
Is Stellar Lumens a good investment?

Whether or not the XLM token is a good investment for you will depend on your portfolio composition, investment goals and risk profile. Different trading strategies will suit various investment goals, whether short or long-term.

Always do your own research. Remember that cryptocurrency markets are extremely volatile, and never invest money that you cannot afford to lose.
Is XLM a good investment?

Whether XLM is a suitable investment for you depends on your personal investing circumstances and goals. Cryptocurrencies are highly volatile investments, making them riskier than other asset classes. You should evaluate the level of risk you are prepared to accept before investing. Never invest money you cannot afford to lose.
Will Stellar Lumens go up or down?

Some cryptocurrency forecasting sites like DigitalCoinPrice and WalletInvestor showed that their XLM crypto price predictions were trending higher in the future as of 25 July 2022. Whether you believe those predictions is a decision only you can make.

Bear in mind that cryptocurrency prices are hard to predict given high volatility in the market, where prices could fall just as quickly as rise.
How much will Stellar Lumens be worth in five years?

Forecasting sites vary in their projections for what the XLM coin will be worth in five years. Note that they can get their predictions wrong, therefore you should always conduct your own research.
How many Stellar Lumens coins are there?

As of 25 July there were 24.87 billion XLM coins in circulation, equivalent to 50% of the maximum supply of 50 billion coins, according to data from CoinMarketCap.

That gave XLM a market capitalisation of $3.24bn, ranking it as the 28th largest cryptocurrency.
Should I invest in Stellar Lumens?

As of 25 July 2022, the price of the XLM token was down -58% over the past year. Your decision to invest in Stellar Lumens should be based on your risk tolerance, portfolio size and goals, and stock market experience. You should always conduct your research to determine whether a cryptocurrency is suitable for you. Remember that previous results do not guarantee future returns. And never invest or trade money that you cannot afford to lose.
Further reading


This news is republished from another source. You can check the original article here