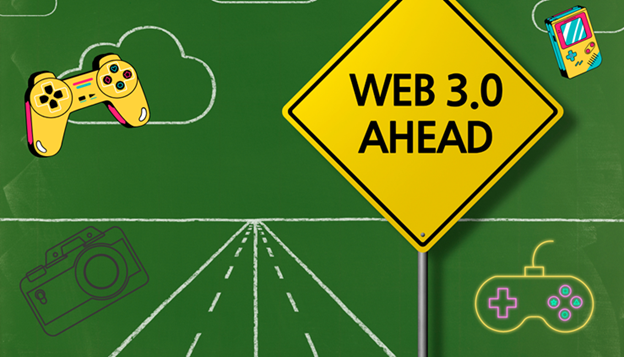 Web3 is a new buzzword gaining momentum in 2022, and it will likely continue to flourish into the mainstream throughout 2023. However, for many people, it's still not precisely clear what Web3 is – even though they probably use Web3 applications regularly.
This article will help break down the concept of Web3 and will also provide five examples of great Web3 projects leading the way. Some of these projects have helped the cryptocurrency industry become what it is today. Others will help bring cryptocurrency into the mainstream audience in the coming months.
The projects on this list cover most aspects of the industry, such as P2E gaming, environmental sustainability, decentralized finance data, metaverses, video streaming, and advertising.
What are web3 projects?
Web3 projects are decentralized applications based on the fundamental principles of blockchain technology – being decentralized, trustless, and permissionless.
All pure Web3 applications are designed to encourage participation in the ecosystem through some form of reward incentive. It can be described as the next generation of internet architecture that takes power away from a small group of people, such as internet service providers (ISPs) and tech-giant companies, and brings that power back into the hands of the regular everyday user.
Typically, the top-tier Web3 projects will also have some form of democratization, allowing individuals to vote on the future direction of the projects.
Web3 is considered the evolution of the internet. Web2 covers all of the social media platforms you will likely use regularly, such as Instagram, YouTube, and TikTok. These Web2 platforms allow users to create their content, but they still have no control over how their data is handled. Furthermore, users can quickly be banned from these platforms, removing the permissionless aspect that Web3 strives for.
The scope of the Web3 industry is already pretty extensive, covering sectors such as dApps, layer-2 scaling solutions, NFT marketplaces, DeFi programs, stablecoins, play-to-earn projects, and interoperability protocols. Furthermore, Web3 also integrates other technologies such as virtual reality, augmented reality, 5G, Internet-of-Things, and machine learning.
Following are five of the great Web3 projects we have found that are leading the way in their relative sectors of Web3.
Chainlink – Best Web3 App For Reliable Decentralized Oracles
Chainlink is one of the first Ethereum-based Web3 projects, launched in 2017. The project is considered the oracle of Ethereum, bringing real-world data on-chain to be used by smart contracts.
Smart contracts are sets of code designed to be triggered after criteria are met. Before Chainlink, these criteria were limited to on-chain data, such as the number of transactions, the volume of transactions, or the number of wallets. However, with the Chainlink oracle, off-chain data is easily integrated as triggers for the smart contract. These included any type of data feed, such as pricing data, sports results, news feeds, and weather data.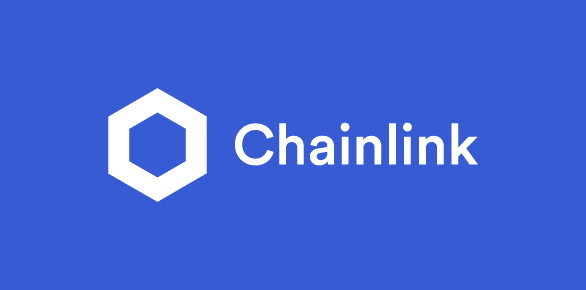 To ensure reliable outside data is fed into the smart contracts, Chainlink has devised a system that uses reputation points to grant oracles for information provided, with an additional incentive requiring oracles to hold LINK.
Chainlink slots perfectly into the Web3 category as it removes the need for a centralized service to provide real-world data. Instead, reliable data is provided by the ecosystem of users incentivized to provide reliable data and keep the system running.
DeFi protocols are open to flash loan attacks, hacks, and sabotage without reliable off-chain data.
Overall, Chainlink is successfully pushing the boundaries of the Web3 ecosystem into a sector that can integrate real-world data into the applications while maintaining decentralization principles.
Theta – Best Web3 App For Video Streaming
Theta is also another of the Web3 pioneers after being formed in 2017. Theta is the underlying protocol for building decentralized video streaming services. Users come to create a global network of computing power to pool their spare bandwidth and computing resources to help distribute the video streaming content. As a result, users are rewarded in TFUEL, one of the native tokens from the ecosystem.
Essentially, Theta Network is a P2P data relaying network that allows the delivery of high-quality video streams and other data-heavy applications.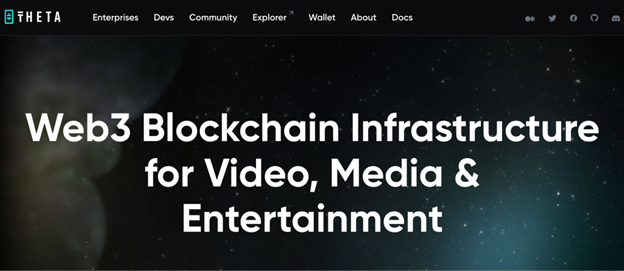 The flagship application built on the Theta Network is Edgecast, a content transcription, and distribution dApp. Edgecast is a top-tier video streaming service capable of streaming movies like Netflix and eSports like Twitch – all through a network of decentralized users.
Another application built on Theta Network is Theta.tv, a streaming service similar to Twitch set to be shipped with new Samsung Galaxy phones.
However, Edgecast and Theta.tv aren't the only dApp on the Theta Network. It is capable of vertically scaling, allowing any developers to build their streaming platforms using the underlying Web3 Theta infrastructure.
Interestingly, the project has also gathered investment from the co-founder of YouTube, Steve Chen, and the co-founder of Twitch, Justin Kan.
Overall, Theta Network is doing a remarkable job in pushing video streaming into the Web3 sector.
IMPT
IMPT is an environmentally-focused carbon credit marketplace aiming to help reduce the carbon footprint for businesses and individuals. The Web3 ecosystem is designed to make it straightforward for people who want to reduce their carbon footprint by reducing the complexities of entering the carbon credit market.
Typically, only large corporations participate in today's carbon credit market as they are often required to offset their carbon emissions through regulations. However, individuals and small businesses are often hesitant to enter due to limited pricing data and prevalent scams voluntarily.
The IMPT Carbon Market allows users to ensure the carbon credits they buy are genuine as they are all hosted as NFTs on the blockchain – making them entirely transparent and tradeable. In addition, the Carbon Marketplace allows users to buy, sell, and retire carbon credits quickly. When a user retires a carbon credit, the NFT is sent to a burn address, removing it from circulation.
The team also believes that making positive environmental contributions should be accessible to everybody, regardless of the affordability of entering the carbon credit market. Therefore, they have designed a shopping platform that allows users to earn carbon credits when conducting their everyday shopping.
They have secured partnerships with thousands of world-famous global brands willing to allocate a percentage of sales margin to environmental projects. When a user purchases an item on the shopping platform, the sales margin is held in IMPT until they have enough to buy a carbon credit.
In addition to the carbon marketplace and shopping platform, IMPT will launch a social platform that will introduce the first global scoring system designed to make individuals and organizations more environmentally friendly. The scoring system will enable everyone to measure how impactful they are in terms of their carbon footprints, with different rankings depending on the score.
IMPT is hosting a presale and quickly gaining momentum amongst environmentally conscious investors. The project managed to raise $5 million within two weeks of launching the presale to the public, showing investors' confidence in believing this project will put crypto into a greener and more sustainable future path.
🚨HEY, #IMPT CREW!🚨

✅ YES – WE ARE SELLING OUT FAST!
✅ BUY NOW BEFORE ITS TOO LATE!
✅ HURRY BEFORE STAGE 2 PRICE INCREASES TO $0.023‼️

BUY NOW AT 👉 https://t.co/TvKmemggC0#climatechange #blockchain #environment pic.twitter.com/woDBtwnk6L

— IMPT.io (@IMPT_token) October 15, 2022
Overall, IMPT is helping to turn crypto green by bringing carbon credits into the Web3 ecosystem.
Basic Attention Token
The advertising industry has long been known to be centralized, with the most prominent players taking most of the cuts from advertising deals and viewers earning nothing.
This is where the Web3 Basic Attention Token ecosystem changes the game.
It is a decentralized advertising network that pays users to view advertisements. Furthermore, it also rewards publishers and content creators in the advertising space. In total, the Basic Attention Token ecosystem consists of the Brave browser and BAT.
The entire ecosystem is facilitated through the Brave browser, created by Brendan Eich – the co-founder of Mozilla Firefox and the creator of JavaScript.
The great thing about the Brave browser is that it is privacy focused – falling in line with the Web3 fundamentals. All privacy trackers, cookies, and personal data collection tools are automatically disabled on the web browser. It even blocks all external advertising for users.
Basic Attention Token was also launched in 2017, making it one of the pioneers in the Web3 space, and it has been consistently growing over time. In addition, the Brave browser has over 55 million monthly active users.
Overall, Basic Attention Token is doing well in pushing the entire advertising industry into the Web3 sector.
Tamadoge
Tamadoge is a fun P2E deflationary memecoin that has taken the industry by storm. During a bear market, TAMA managed to surge by over 1800% after launching on a top-tier exchange, OKX. The token's price has cooled off somewhat, but the momentum is still growing for the project as investors wait for the team to release its flagship product.
Tamadoge can be considered one of the leading memecoin projects in the Web3 space, pushing ahead of Dogecoin and Shiba Inu due to the utility provided to holders.
Although DOGE and SHIB are trendy projects, they provide little utility to their holders beyond the investment factor. Tamadoge, on the other hand, is built to provide a plethora of utility to its holders.
One of the primary forms of utility for Tamadoge is the Web3 play-to-earn game that rewards users that finish each month at the top of the leaderboard. The game allows users to battle, breed, and train little Tamadoge NFT pets, to earn the points that rank them on the leaderboard.
Adding further to the utility, all of the Tamadoge NFT pets have a unique 3D model attached to them, allowing holders to utilize the NFT in partnered metaverses. For example, users could use their Tamadoge NFT pet as an avatar in Decentraland if both projects can establish a partnership.
The team will also launch its Metaverse and a complete P2E arcade, providing more avenues for TAMA holders to earn through the ecosystem.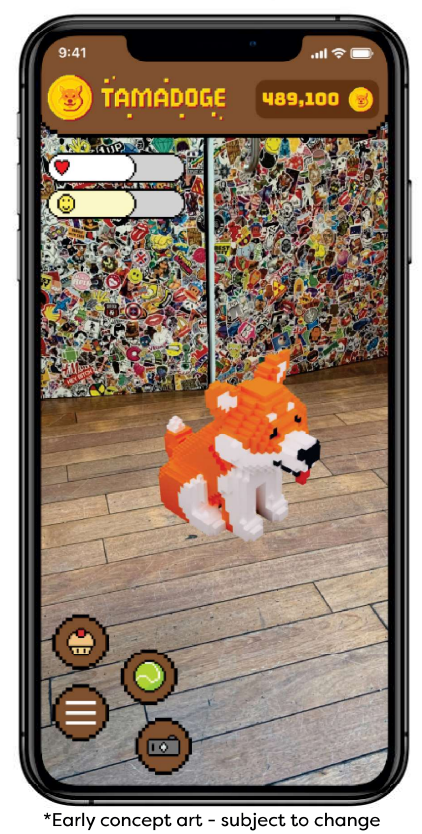 Lastly, Tamadoge is set to launch an Augmented Reality (AR) app in 2023. This AR app will bring the Tamadoge Pets into the real world as users can interact with their pets as if they were in the same room – similar to Pokemon Go.
Overall, Tamadoge is leading the memecoin sector in the Web3 ecosystem by providing more utility than the competition.
Conclusion
Overall, all the projects listed above lead the Web3 industry forward in their respective sectors. For example, today's cryptocurrency industry wouldn't be remotely close to where it is today without some Web3 projects, such as Chainlink.
The other Web3 projects on this list are pushing the industry into a new realm. IMPT, for example, will help the entire industry become sustainable by moving crypto into a green future. The presale is already gaining traction quickly, proving environmentally conscious investors' interest in making crypto turn green.
Furthermore, projects like Theta and Tamadoge are helping the Web3 sector battle industry titans, such as Netflix and Pokemon Go.


This news is republished from another source. You can check the original article here